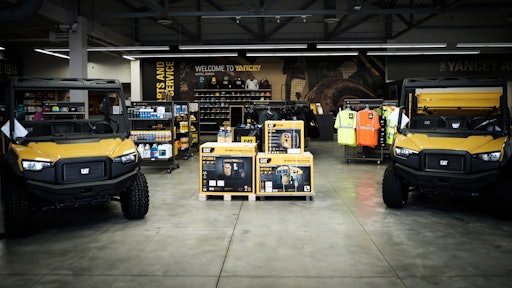 If you're a landscaping business owner or any other type of green industry professional, you realize how intimidating equipment dealerships can be. Walking into a machinery dealership can be a very different experience from shopping for a new personal vehicle or visiting your local hardware shop. Customers often encounter equipment without clear pricing, difficulty in finding what they need and a less-than-convenient overall experience.
But in 2020, Caterpillar aims to change the game with an all-new dealership retail strategy. A few factors included in this retail strategy are:
Transparent pricing on all machines and products
Fully redesigned shops
A more modernized approach to the online shopping experience and product availability
As a major player in the industry like Caterpillar changes the way it serves customers and offers visible pricing on its machines, other companies may follow suit. This should lead to a myriad of advantages for landscape and construction industry professionals.
Equipment Price Transparency
Alex Stokman, Caterpillar's retail development manager for North America, offered insights regarding the company's new retail strategy at a recent Caterpillar press event. She explained that Caterpillar intends to provide visible pricing on all equipment moving forward. Just like car dealers display prices on the windshields of vehicles, Caterpillar machines nationwide will now sport clear and visible cost details.
This information will include factors such as cash price and monthly payment options.
Stokman went a step further and said that these price details won't only be on pieces of machinery. All items available at Caterpillar dealerships – from parts to T-shirts – will have prominent pricing info.
Competitive Pricing
Not only does Caterpillar intend to showcase clear cost information on its equipment, the company is also working toward being as competitively priced as possible.
Stokman says that customers often expect Caterpillar to come with a premium price tag to match its premium brand status. But she explains that Caterpillar prioritizes offering options that enable customers of all levels – from those who need smaller compact equipment to large fleet managers – to afford the best machines for their jobs.
She also says that customers are often surprised to find that Caterpillar equipment is within their budget – especially when they factor in the support, parts and maintenance offered by Cat dealers on company machines.
Improved Dealership/Shopping Environment
In addition to more transparent pricing, affordable machines, flexible purchase/rental options and wider inventory selections, Caterpillar is completely redesigning their dealerships. Customers will now feel more like they are browsing a retail shop when searching for landscaping and heavy equipment.
Stokman says dealerships will include signage that aims to remind shoppers of parts or products they might need while at the location, friendly store associates that can offer expert-level assistance and even cafés where customers can enjoy a range of refreshments while shopping.
Stokman explained that these types of changes will not only help green business owners find a more fun and pleasant shopping experience when purchasing equipment, parts or service – they will also help ensure shoppers get everything they need while on-location at dealerships.
Maximized Time to Focus on Your Business
The Caterpillar retail strategy includes efforts from Cat financial to streamline the actual purchase experience as well. Once customers have finished shopping for equipment and have selected the machine that works for them, quick credit decisions and a smoother buying process speeds the transaction along.
Stokman says that customers can now have their machine on a trailer and on the way to their business in just a few hours – as opposed to several hours or even days.
Equipment dealers offering more efficient purchase and service processes enable small business owners to spend less time buying a machine or dealing with it being down, and more time running their company.
Better Online Shopping Experience
Finally, outside the dealerships, Caterpillar is working to bring a more modernized online shopping experience to customers. This is a benefit that has traditionally been sorely lacking in the equipment industry.
While other industries have seen a huge growth in online product availability, green and construction industry machines have often only been available in brick and mortar shops.
Caterpillar and other manufacturers are now making more inventory than ever before available at the push of a button. Increasingly, customers can shop for the machine they need, put it in their cart, checkout and then either pick it up at a dealership or have it delivered.
Bringing Dealers Onboard
Changes in the equipment industry can be slow to catch on. However, companies such as Caterpillar are helping dealers understand how advantageous these advancements are for them and their customers. Providing transparent pricing, tons of options, informative advertising and a stellar shopping experience allows dealers to grow their customer base exponentially.
As for Caterpillar: All of the company's dealers in North America have signed on for the new retail strategy – as well as 81 global dealers.