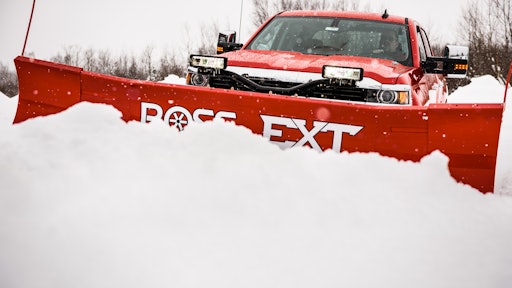 BOSS Snowplow
Leaders at two landscaping companies emphasize the importance of communicating frequently with employees during the COVID-19 crisis.
Zech Strauser, president of Strauser Nature's Helper in Pennsylvania and Jon Crandall, chief visionary of JC Grounds in Massachusetts recently discussed how they've been managing business morale while shelter-in-place orders were in effect in March and April 2020.
Both service customers in the spring and summer seasons for landscaping services and snow and ice removal in the winter.
Communicating with Employees
For Crandall, communication has been a big part of boosting morale.
Weekly meetings with different teams are held to ensure everyone is in the loop about what is happening with the company.
"We've really stepped up our game from a communication standpoint," Crandall says. "It's a biweekly or weekly thing, where I'm driving around and talking to the crews and being open and honest with them and sharing with them company news."
Instead of cancelling or delaying the company's quarterly strategy meeting, the meeting took place and leaders came up with a business plan for the next 30, 60 and 90 days. They then shared that information with the rest of the employees.
"We decided, if we've ever needed a clear plan, it's now," Crandall says. "One thing that creates anxiety is a team without a plan, so we went ahead and did the meeting and we got a quarterly picture of what's changed."
He also seeks out advice. Each weekend, Crandall talks to industry peers to trade lessons learned.
"I'm lucky to have a trusted group of mentors with several people from my industry," he says. "We're talking every week on how we're taking care of our teams and moving forward. If we surround ourselves with a peer group of people who we consider experts and advisers, we're going to get through this."
Putting Your People First
Strauser began preparing early on for the possibility of a widespread crisis.
"When this started rolling out, we were pretty early to take action. I thought I was overreacting," he says. "About a week later, I realized I wasn't."
A three-day leadership series provided by John C. Maxwell has provided a lot of guidance to Strauser, he says. Taking the time to go through such a seminar allowed him to gather his thoughts and come up with a plan.
Strauser says he frequently reviews Maxwell's main points:
Put people first
Be flexible
Leverage your team
Communicate well
Be authentic
One of the first steps they took as a company was to educate workers about the risks and to come up with a safety plan for working in the field.
"When the landscape industry became essential, I felt we had to close to reconfigure everything," he says. "We changed out our crew structures and policies, put together a new operations plan. We began looking at losing some business and making light changes on the financial side. And we made sure the team was put together from a safety side."
The company is conducting daily management meetings and weekly video employee-wide meetings.
"That's been a big part of the morale," Strauser says. "There's been a lot of videos, we record the meetings and send them back out afterwards and we've done a lot of social media exposure, where we've been getting a lot of feedback from customers."
Planning for a Slow Year

Pexels
After a slow 2019-2020 snow season, many in the snow and ice removal industry are preparing for a 50% drop in landscaping business this spring and summer, they said. Crandall and Strauser say they're working to budget out this new expectation, planning as if they've already had a revenue decrease.
"What does your business look like with a 10%, 20% reduction in revenue," Crandall says. "Go back in time, to where your business was at that point in revenue. We asked some of our management people to jump back in the field and help with production."
Once those managers went back into the field, they were asked to look for inefficiencies to correct, help improve morale and be on the lookout for future company leaders.
"We had to share the reality with them that they might be there for a few weeks, or it might be a few months," Crandall says. "They're just happy to be part of the solution."
The company is also thinking about their most resilient customers, the businesses that are thriving right now.
"That's who we're targeting for growth," he says. "We need to get our receivables in for the winter, we've got to support our clients. For our property managers, our building manager (customers), what's important to me is a continued relationship. After 2008, I'd rather take a revenue hit than (building owners) go through and do a whole new RFP. If you need us to do anything, we'll do whatever you need. They're scared right now, so to have that kind of support from a vendor, that means a lot to them."