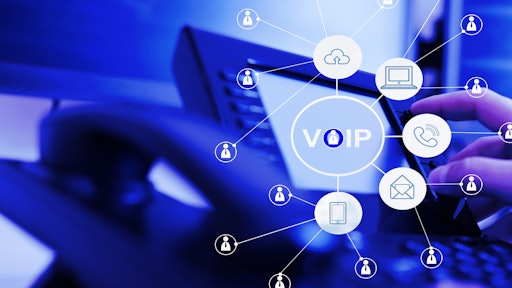 ©PJ_JoE - stock.adobe.com
Landscapers today need to be able to connect and communicate quickly with current customers, potential customers, and the public in general. What are the latest communications tools landscapers should consider?
VoIP or voice over internet protocol has become one of the latest tools that landscapers are switching to from traditional landline phones to communicate using the latest technology. Benefits abound, including the flexibility of being able to work anywhere and communicate while still using your business phone number; the numerous features VoIP provides; and the cost savings that come with switching to VoIP.
For a deeper dive into VoIP, download the free VoIP guidebook: The Complete Guide To VoIP Phone Systems.
Understanding VoIP
As the name implies, VoIP (voice over internet protocol) uses the internet to allow users to make and receive calls using either analog phones or IP (Internet Protocol) phones that can easily be plugged into any Ethernet jack.
Once connected, you can make and receive calls, and customize a slew of helpful features using a web portal and login. These VoIP features include virtual receptionist, ring groups and adding new users.
So, what is the biggest difference between VoIP and traditional landline phones? In a word, technology.
Landline phones, since being introduced 100 years ago, literally haven't changed much, still only allowing users to make and receive voice calls. VoIP, on the other hand, has changed how companies communicate due to advancements in innovation and internet speeds that continue to increase. Unlike traditional landlines where you must pay for features to add-on, VoIP comes with numerous features built-in making calling and communicating even better.
VoIP phone systems operate literally by turning your voice into data, which is then transmitted over the internet like sending an email. If you've used Skype before, you've used VoIP.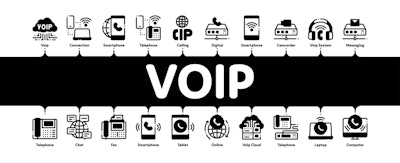 The VoIP Basics
VoIP PBX is a cloud-based phone network that a VoIP service provider manages in the cloud and one where companies pay a monthly fee to use the service. PBX stands for Private Branch Exchange and is a company's private phone network.
Ethernet is the internet delivery system within a local area network (LAN) – the network of computers and devices you have in your office. You'll connect your IP phone units to the internet with an Ethernet cable.
Transforming Communications
As your business continues to adjust to the new realities in the marketplace, it is critical to have a phone system that meets today's every changing environment and communications standards. VoIP offers the following powerful features that truly transform communications.
The Virtual Receptionist – There's no reason why you should miss business opportunities because your phone is busy, or your greeting is unprofessional. With VoIP, this is easily solved through the Virtual Receptionist feature. When an employee isn't available to take the call, Virtual Receptionist steps in. Callers hear a professional greeting and message, and then given numerous options on how best to proceed. This is compared to callers hearing a busy signal or being put on hold immediately.
Ring Groups – If you want to make sure every call is answered by a live person, ring groups is the perfect feature. When someone calls your business, ring groups operates in two ways: rings simultaneously, so everyone in a department receives the call; or rings sequentially, person to person, until the call is answered.
Work Anywhere – These days, many employees are working out of the office remotely. Having your employees use their personal cell phone numbers for business isn't professional and doesn't send the right message to your customers. With VoIP, unlike landlines, employees can use their office phone number through mobile and desktop apps, and voice messages that are forwarded as email attachments.
Conference Calling - if conference calls are important to your business, having a conference phone that delivers excellent call quality is imperative. With VoIP, you will be able to look for conference phones with these features: 360° voice range; an array of built-in microphones; and Echo cancellation background noise suppression.
Virtual Faxes – For many businesses, faxing remains important. VoIP makes it easy to send traditional faxes from your phone to a fax machine, and virtual fax removes the need for fax equipment.
Keeping Existing Phone Number – Your business number is your lifeline to the outside world. VoIP makes it easy to keep you existing number during the transition to VoIP. You'll be able to make and receive calls the moment you plug in your phones. So, there's no need to change your website, business cards or letterhead. Your VoIP provider can take care of moving your business phone number to your new system.
Setting Up VoIP for Your Business
Setting up VoIP for your business only takes a few minutes. One of the differences businesses notice when they switch to VoIP is the reduction of equipment in their offices. Traditional landline business phones require the installation of large wall-mounted fixtures, which are then followed by upgrades and IT servicing.
Hardware for a VoIP system basically consists of one-to-two compact, plug-in pieces. With VoIP, you have options on the devices you'd like to use. Continue using existing analog or digital desk phones, or easily upgrade to IP phones.
Here's all you need to do once you receive your desk phones and starter kit:
Connect your base station (a tablet-sized router that sorts out voice data and traffic to ensure clear, reliable calls) to your analog phone.
Plug in wireless extensions into regular power outlets to connect analog phones to the internet.
Connect IP phones to an Ethernet jack.
Whenever you change to new technology for your business, questions always come up. Therefore, many VoIP providers offer 24/7 service so you can get all your questions answered and resolve any issues.
Potential Advantages
VoIP provides businesses with numerous potential communications advantages. Here are some:
The Right Impression - How the public perceives your business often depends on their initial and ongoing phone interaction with you. Do they hear a professional welcome message with easy directions to guide them, or are they put on hold, immediately. Whether your business has 10 or 200 employees, your business will sound professional with a VoIP phone system.
Call Quality That's Excellent – With VoIP's continued technology advances and increased internet speeds, VoIP phone systems provide the call quality you need for your business today and in the future.
Lowered Costs – The reduction of costs is one of the most appealing benefits businesses experience from switching to VoIP systems. This is compared to traditional landlines which come with significant expenses including setup fees, ongoing monthly costs, and all the additional costs, including IT support. To calculate how much your business could save by switching to a VoIP phone system, try using the VoIP Savings Calculator.
Working Remotely – With so many employees today literally working everywhere, a VoIP phone system provides the tools to communicate with staff effortlessly no matter where employees are.