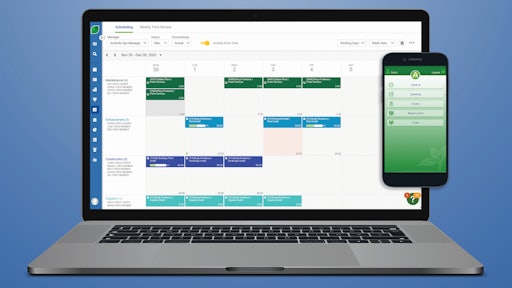 Aspire CEO Mark Tipton is excited about the news of ServiceTitan's acquisition of Aspire.
As part of the acquisition, Aspire stays Aspire so in the immediate future, there are no differences clients will see. Tipton said there will be no changes to fees, no changes to service or policies and no changes to the product.
As he explains it, Aspire will continue to be the enterprise platform for the medium to larger lawn and landscape companies. Conversely, Crew Control, which Aspire acquired in January 2021, will continue to serve as the platform for those small to medium businesses that are looking for a simple solution.
"We're going to be operating as a very autonomous business unit within ServiceTitan," Tipton said.
Even his own role, as CEO of Aspire is not changing. "I will continue to lead Aspire to the future, as will our entire executive team," he said. "And for that matter, every member of our staff. So, Aspire, as it existed yesterday, looks the same today."
At the same time, from Tipton's perspective, Aspire has an incredible new partner in ServiceTitan.
"Really what I hope to take away from this and the value that that people see from this merger of our companies is this is really going to allow us to accelerate the plans, we already had to bring more value to our clients," Tipton said. "Our mission from the beginning has been to improve the way companies in the green industry operate and this partnership with ServiceTitan really accelerates that. Aspire stays Aspire with the addition of the resources and the shared technology, and everything that we're going to be getting from ServiceTitan."
Two years ago, Aspire had partnered with Mainsail to help take the company to the next step in scaling up the business. "For us, we're continually trying to improve ourselves as a company, trying to make ourselves better," Tipton said. "We've had a mission from the beginning to grow and we wanted to grow rapidly. We felt like we had the solution that the industry needed, and the faster we could help the most people the best it would be."
He noted that every move made along the way in the past several years has been to improve Aspire and help the company achieve its goal. Mainsail was part of that.
"They helped us really focus on strategic initiatives like building an experienced executive team that could help lead our growth and bringing us the financial resources that would help us invest in the product and take it to a new level that would allow us to scale up," Tipton said.
In some ways, for Aspire, ServiceTitan is basically replacing Mainsail due to the achievements of the Aspire team over the past few years.
"Many investors and strategic acquirers have taken an interest in us and following us closely over the last couple of years, since the Mainsail investment," Tipton said. "I would have regular conversations with many of them but the timing, the fit wasn't perfect, because things were going so well with Aspire and how we were progressing with our plan. If we were going to do anything, it needed to be a perfect fit."
Despite only being with Mainsail for two years, Aspire had exceeded the objected set at the time of the partnership.
"We were on an accelerated path so we knew at any time, there might be something that came up, that was the right fit," Tipton said. "We weren't in a rush for it." As the CEO, his job was to balance the interests, of his team, the company's clients, and the investors. Due to Aspire's success, they were able to be very selective. "We could have done this with Mainsail for several more years but then ServiceTitan reached out."
The deal came together rapidly, as preliminary conversations were held back in April. With both sides doing their diligence to determine if it was a good fit for the team, for the culture, for the clients and for the overall long term.
"It became pretty obvious that they could check all those boxes for us," Tipton said. "It was a really good fit. The synergies between Aspire and ServiceTitan are significant. Their founding story that they have lines up very well with ours, their relentless client focus, the importance of investing in the product, which is key in a technology business. All of that really lined up really well."
The synergies were strong and, and that's ultimately what he believes makes a partnership successful.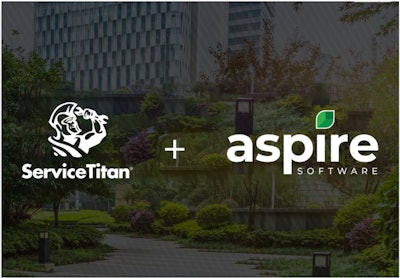 "Culture just as a whole is key to building a great organization," Tipton said. "Our culture here at Aspire is strong and healthy, as it is at ServiceTitan and I think both of our organizations have been very successful because we honor our cultures."
He said both companies see culture as being critical to their business.
"I wouldn't say that's just true of software companies, it's true of landscape companies as well," Tipton said. "When I look at our clients and we're in a wonderful position where we get to serve the best of the best of the green industry and you look across them, and culture is so critical for those organizations and such a huge part of their success. I mean, you can have the best systems like Aspire, you can have the best processes, the best people but one without a strong culture, you'll never be great.
From a technological standpoint, while no direct integration is currently planned, Tipton said ServiceTitan has a pro suite of products, which will be add on modules providing additional pieces of functionality that will be embedded within the Aspire software platform.
In the near term, he said Aspire clients will benefit from the $100 million R&D budget ServiceTitan has over the next year. A significant portion of that will be focused on Aspire.
"Product investments are going to be accelerated," Tipton says. "We're going to continue to be vertically focused within the green industry. We're going to be taking the best of the best technologies and sharing those."
He said that sharing will go both ways. ServiceTitan is very interested in some of the technology Aspire has and Aspire is interested in a lot of the technology they have. "We're also on a common technology stack, so that allows us to really share a lot," he said. "There will be integrations, there will be features and functions of the software that will be able just to integrate."
Whether or not the two become a single platform overtime is yet to be determined and not currently a primary focus.
"What I can tell you is regardless of technically what's happening behind the scenes, all of our products, all of the industries that we serve, will be uniquely served, meaning that the solution we provide, the services we provide will be targeted to those industries," Tipton said. "We think that's very important. It's been a big part of the formula for our success so far and been a big part of ServiceTitan's formula for success and will continue that into the future."
Much of the Aspire team has been in the green industry for many years. Tipton himself has been part of the green industry since 2004. While not a contractor, he was on the software end of things. Since the beginning, the first contractor he began working with in the Midwest was looking for a software platform to help manager their business. At the time, there wasn't a lot out there.
"There are good, hard working people in this industry," he said. "Many of them started their businesses from the ground up with a truck, a trailer and a mower and they sold the job and over the years built an incredible business. That's fun, to be able to serve those type of people that that value hard work and delivering quality services."
When Kevin Kehoe and Tipton formed Aspire, they wanted to make a difference in the green industry. For Tipton, the acquisition accelerates reaching that goal and expands the possibilities.
"I think you are going to see more of that with ServiceTitan expanding the features, the functionality of the platform, the integrations, that we provide other technologies that will be incorporated to our platform.
"I think it's going to really raise the bar of how the best companies operate in the industry and we're just thrilled that we get to be a part of that," Tipton said.