©Artur - stock.adobe.com
Home service contractors, including lawn care professionals, are often challenged by where to invest marketing dollars. Traditional print ads? Digital marketing? Radio? These are all viable channels to generate business leads and sales. But most traditional channels are hard to prove return on marketing investment. That's why more home service businesses are turning to digital marketing. The data available to marketers and advertisers paints a clear picture of where leads and sales are coming from. This makes growth both predictable and profitable.
However, the data that has recently made measuring return on digital investments possible is going to be phased out over the course of 2022 and 2023. To make matters worse, consumers are now opting-out of advertisements on their smartphones. Data privacy has become a hot-button issue to consumers and governments over the last decade, and new regulations like the General Data Protection Regulation (GDPR) in the European Union and California Consumer Protection Act (CCPA) in the United States are now being enforced. More state-level legislation is likely to pass in the coming years, too. Any business considering an investment in digital marketing should consider the impact to their marketing strategy.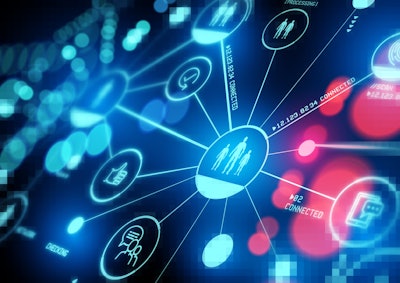 Why Care About Data Privacy?
Consumers now have more power and control over their data than ever before, and it's already having an impact on lead generation campaigns on platforms like Google and Facebook. If companies do not change their approach to digital marketing, it could lead to a gradual—or in some cases, sudden—decline in leads and revenue.
For instance, on April 26, 2021, Apple released their iOS 14.5 update to their operating system which allowed users to select which applications could track personal, location or other kinds of data. Not only can users seek out privacy settings on their phones and opt-out of tracking, but now, users on iPhone devices will be prompted to opt-in to tracking thanks to Apple's new AppTracking Transparency feature. This has led to many users choosing not to opt-in to advertisements, meaning your business will no longer be able to target those individuals on those platforms. This move has caused major reactions from advertising platforms like Facebook, which will in-turn affect home services companies running ads on the platform. Here are a few key takeaways from what we've seen across our client portfolio:
Less audience data means less control
More users opting out of tracking means target audiences will be harder to reach, increasing customer acquisition costs. Total ad impressions on Facebook declined by nearly 19% from Q1 to Q2, 2021. With shrinking audience sizes, marketers will need to consolidate campaigns on the platform.
Smaller audience sizes have increased demand, and companies are willing to pay a premium to reach them. In the same dataset, the cost-per-thousand (CPM) impressions rose by a staggering 67% in the same timeframe. It will be interesting to monitor what this threshold looks like as more users opt-out of tracking. Will companies ditch Facebook and seek out advertisements on other platforms? Only time will tell.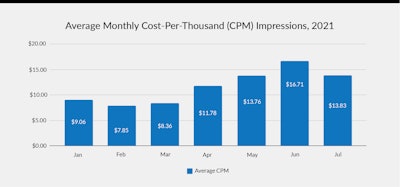 Some home service marketing strategies look at investments by region or zip code. Unfortunately, the reporting used to help guide those investments may go away, making it harder to know what's working and what's not.
Ad campaigns on Facebook can vary depending on your strategy and goals. "Conversions" can be anything from a video view, a website page visit, or a purchase. Prior to Apple's iOS 14.5 update, digital marketers would be able to show the demographic makeup of users who clicked through from Facebook to a company's website, then converted.
Facebook has since stripped the ability to view that data.
According to the Silverback Strategies dataset referenced above, significant amounts of Facebook demographic data like age and gender were grouped as "Unknown" starting the week of April 26, 2021. As of June, 100% of this data was unknown.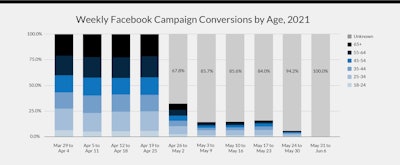 In just six weeks, this valuable demographic data was stripped of marketers. The impact extends to geographic data, too. For home service companies running Facebook Ads, this may have a major impact on campaigns.
How to adjust?
These changes present a big opportunity for home service providers to out-maneuver competitors. It all depends on how effectively companies can use first-party customer data in their marketing strategy. This valuable information, collected directly from customers and prospects themselves, can be used to personalize messages, target geographic locations, and inform machine learning. But it requires a thoughtful and intentional strategy.
There are two primary activities home service providers can do to weave first-party customer data into their marketing strategy:
Collect the right information

— consumers know the value of their personal information, so it's important to identify what data is critical to your marketing campaigns and objectives.

Activate first-party data

— once you have collected data from your audience, it needs to be put into practice. This can look different depending on what channels your business is using to generate leads and sales.
How Should Home Service Contractors Collect Customer Data?
Cookie consent management. First, manage how you're using cookies on your own site. Allow visitors to express what they are and are not ok with sharing. Since many U.S.-based privacy rules are dependent on opting out of info sharing, you'll want to give visitors the opportunity to opt out of tracking as they navigate your website.
Conduct audience research. Surveying your audience is a great way to inform the direction of digital strategy and gather meaningful data quickly from your audience. For example, asking customers about their biggest pain points can help craft marketing messages for campaigns.
Examine the marketing value exchange. Customers are beginning to realize how valuable their personal data can be. This means contractors need to get creative about how they collect personal identifiable information, like an email address. For example, contractors may consider offering a discount on installation fees for customers who fill out a survey or subscribe to their email newsletter.
How Can Home Service Contractors Activate Customer Data?
Analyze creative performance. With fewer targeting capabilities on the horizon for ad platforms, marketers should begin systematically testing and analyzing the performance of creative variables, like photography vs animation, or method of storytelling. Feedback loops between paid media and creative teams will be critical to make this a reality.
Lean into machine learning. Without the ability to target specific audience segments through third-party cookies, marketers may consider taking advantage of creating "lookalike audiences" on advertising platforms like Facebook and Google by uploading customer email lists to each platform. This helps AI and machine learning algorithms identify other users who may share similar behavioral characteristics, broadening the reach of your advertisements.
Expand email marketing. With more complete customer profiles, contractors can personalize email messages or segment their lists in new ways. For example, if you service a broad geographic region and have zip codes of your audience, you can segment your email communications by geography to make your message more personable.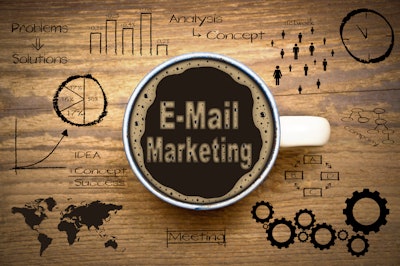 Getting started
Delaying action to address this change is risky. It could lead to fewer leads and sales in 2022 and beyond.
Home service providers should first start by talking with their marketing teams, whether in-house or outsourced to an agency, about this change and what steps can be taken to keep lead flows from being disrupted.