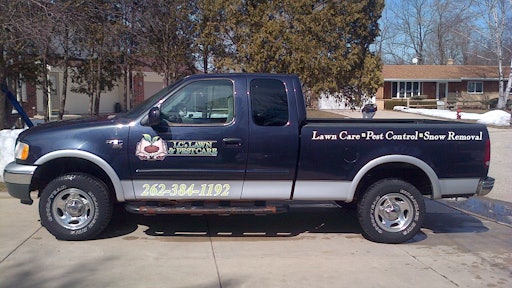 Many landscape contractors say they started with a push mower and pickup truck, and gradually grew their companies over time through word of mouth. Many boast that, "I've never even had to do any advertising." That's fantastic—if you can manage that.
One thing that makes it harder is not having professional, legible signage on your truck and/or trailer. Having covered this industry for a long time, I'm conditioned to notice contractors when I see them working a site or driving down the road. I first look for the brand and type of mower they're using. Then I look for company name and phone number so I can punch it into my cell phone and maybe give them a call down the road to shoot some photos. At least half of the contractors do not have the info on their truck or trailer, though. That's likely for one of four reasons:
They don't want a spook like me stalking them with a camera
They are convinced that they already have more work than they can handle, not understanding that a steady stream of sales leads is necessary in order to offset natural client attrition over time
They don't want to logo their truck because they also use it for personal use
They just haven't thought about the importance of branding and the role which their truck and trailer plays.
If you are one of those landscape contractors who does have nice branding on your truck and/or trailer, send us a photo and we'll post it here with this story and on our Facebook page. Maybe we'll even highlight it in an upcoming print edition of Green Industry Pros magazine.
---
What readers have to add:
"We track our new customer leads every year and "Saw Your Trucks" continues to be #2 for us in advertisement behind #1 customer referrals and #3 website. If someone doesn't have a clean and simple logo appearance, they are definitely missing out. Also, I am a firm believer that the customer will remember a website address before they will ever remember a 7-digit phone number."
~ Mike Kreher of Paradise Lawns in Freeburg, IL
"Adding your logo to your truck is the best investment you can make. If you are not utilizing the available marketing space you have on your vehicles, you are losing money and missing out on easy branding opportunities for your company."
~ Greg Parker of Parker Landscape Management in Gray, GA