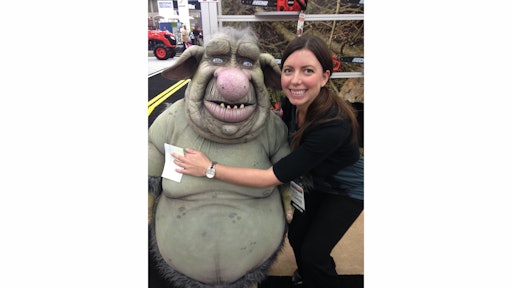 October is my favorite time of year. It's not that I'm into Halloween or love pumpkin pie (though both of those things are true). It's that each year I get to spend three straight days in the presence of those who make up the Green Industry. After viewing new products at the show, talking with contractors and equipment dealers, and wolfing down a couple slices of Papa Murphy's pizza in the food court, I leave the show feeling charged and ready.
Seeing so many products that answer contractor concerns—and witnessing so many dealers and contractors seeking the tools and education to help them better their businesses—makes me puff up with pride for our industry. Together we are all taking it to the next level. The show next year might be doing the same. Early reports of record numbers have Kris Kiser, president and CEO of OPEI, discussing the possibility of spreading into the North Hall of the Expo Center for 2015.
Beautiful weather in the demo area and an increase in attendance had the show abuzz this year with excitement. There was a lot to see and do in a short period of time, but everyone seemed glad to be there and happy to be a part of an industry that is set to prosper thanks to the driven individuals in it (I even caught a high five leaving the demo area one day).
Whether in the classes with a pen and pad or out in the demo area in blue jeans kicking tires, show attendees made full use of what the show had to offer. There was fun to be had, too. Whether a hug for the Echo Troll (picture above) or a concert down on Fourth Street Live!, it was great to take time to celebrate the fruits of all our labors. Cheers!
Take a look at these reports to learn about top news from the show:
Report 1: GIE+EXPO its biggest ever, Kohler unveils most powerful EFI, and more.
Report 2: Contractors test products in outdoor demo area (video), PERC propane cost calculator app introduced, and more.
Report 3: Dewalt launches battery outdoor products line, Raven MPV is a unique 3-in-1 tool, and more.