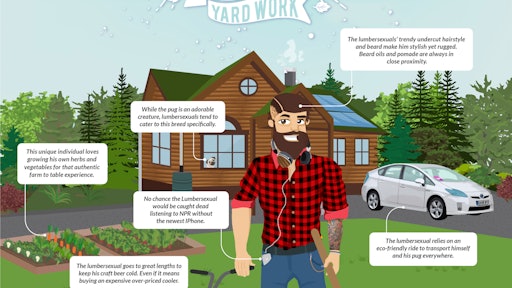 What is a lumbersexual? The answer to that question can be very hard to answer. From his skinny jeans to his red flannel shirts, and his perfectly groomed hair and beard, the lumbersexual is a hip male that transcends beyond his former type: the metrosexual.
The lumbersexual is a very handsome, muscular figment that portrays a get-your-hands-dirty type of gentleman that has been plucked straight from the Alaskan bush. However, he would rather drink craft beers and $8 lattes, and would never be found without the latest and greatest technology—from the iPhone to the electric car. This gentlemen is truly an enigma.
So if you stepped into a lumbersexual's front yard, how would his lawn look and what would he be doing? Check out this infographic from GreenPal to take you through a casual Saturday as the lumbersexual performs his lawn care duties.