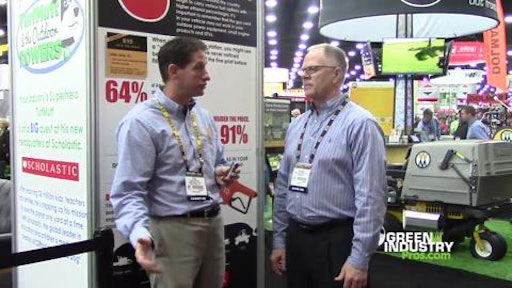 The footprint of the 2014 GIE+EXPO (Green Industry & Equipment Expo), Oct. 22-24, was over 1.3 million square feet, nearly 30 acres and the size of 27 football fields, making it the largest ever for this mega show and, in fact, one of the largest tradeshows in the U.S. The industry event is being hailed as a family reunion that draws all segments of the outdoor power equipment and lawn & garden industry. This year more than 19,000 people from around the world represented an 11% increase in registration over last year. The "reunion" gathering place at the Kentucky Expo Center in Louisville buzzed with business indoors and out.
Hardscape North America (HNA), co-located with GIE+EXPO, also had a record attendance with a 22% increase over 2013. 
Dealer Day, Wednesday, October 22, provided focused education, basic and advanced tech training and facilitated one-on-one time so exhibitors and dealers/distributors could network and discuss pricing and products. Dealership consultant Bob Clements' Wednesday seminar - the first of his five free sessions for dealers - drew 320+ attendants who learned how they can achieve higher levels of success while taking back their lives.

Participation in basic tech training sessions was up 213% this year while registration in the advanced training increased 14%.

Registrations for all paid dealer education were up 35%. The inaugural Keynote Dealer Luncheon, sponsored by Gravely and Stihl, drew nearly 200 participants to hear best-selling author Steve McClatchy discuss how to work smarter, reduce stress and lead more effectively.
Contractor Education. On Wednesday while retailers, distributors and dealers were busy at the Kentucky Expo Center, lawn & landscape professionals were in downtown Louisville taking classes offered by the Professional Grounds Management Society (PGMS) and Professional Landcare Network (PLANET). The sessions continued at the Expo Center on Thursday and Friday.

Contractor registrations were up 7%, and attendance in the GIE+EXPO Workshops for lawn & landscape pros climbed a whopping 56% over last year. New sessions related to snow and ice management were sold out with a total of 276 participants. Workshops on irrigation methods were also new.
Exhibitors. There were 675 indoor exhibits, which represents a 6% increase over 2013 and 13% over 2012. With 181 new exhibitors it was the largest show since the Green Industry Expo and the International Lawn, Garden and Power Equipment Expo merged in 2007. The popular New Products Showcase featured 68 companies spotlighting 107 products that were introduced within the past year, and at least 25 exhibitors hosted press conferences.
Dates for next year. The dates for the 2015 show in Louisville are Oct. 21 for dealers, distributors, retailers and media and Oct. 22-23 for everyone in the industry. The Demo Area will be open Thursday and Friday, Oct. 22 and 23.