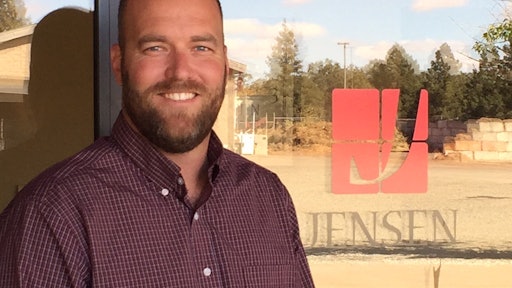 Matt Trenary, a proven Sacramento area landscape construction leader with more than 13 years of industry experience, has joined San Jose-based Jensen Landscape. Trenary will lead the Sacramento Region as branch manager of its construction division.
Sacramento's strong construction market provided an opportunity for Jensen to open a new construction branch, which has yielded more than $2 million in new bookings. The company is part of Monarch Landscape Holdings, a growing family of West Coast landscape firms. 
Private-equity backed Monarch is among the top 20 largest commercial landscape firms nationally with revenues exceeding $80 million and more than 1,000 employees across four states. In addition to Jensen Landscape, Monarch Landscape includes the brands Northwest Landscape Services and Signature Landscape Services, both in the Pacific Northwest. 
"We are so excited to add Matt to the Jensen team in Sacramento. Jensen is committed to the region and adding someone of Matt's caliber immediately strengthens our landscape construction presence in the market," said Brian Helgoe, CEO of Monarch. "Matt is a great person, committed to his family, his community, and to growing our business in Sacramento by focusing on servicing our customers and ensuring we are the best place to work for landscape professionals. Matt has a strong record of staying focused on customers and teammates."
Prior to joining Jensen, Trenary served as senior project manager at ValleyCrest Companies in Northern California. He was based in the Sacramento region for 11 years where he worked with owners, general contractors and landscape architects on a wide range of construction projects including healthcare facilities, educational campuses, parks and government offices.
"The addition of Matt is the right move as we expand Jensen's landscape construction services into the Sacramento market," said Jeffrey Colton, president of Monarch's construction division, who notes the new construction group will collaborate with Jensen's existing landscape maintenance team in Roseville, CA. "He shares a true passion for the landscape profession and is a proven leader with deep roots in the Sacramento region who will drive Jensen's growth toward becoming the premier landscape construction firm in the market."
Trenary will continue building on Jensen's more than 40 years of award-winning landscape achievements in Northern California. He began his landscape construction career at ValleyCrest after earning a degree in landscape architecture from Cal Poly San Louis Obispo in 2003.
"Joining Jensen is the next chapter for me and my family, as well as my continued landscape career growth," said Trenary who elected to stay in Sacramento because he sees it as a great place for his family. "I've established roots in the community since relocating to the region 11 years ago, and see a wide range of landscape construction needs to be met in the Sacramento region," said Trenary. 
Sacramento area developers, homebuilders, master-planned development communities, general contractors and landscape architects are all active. Landscape projects currently being evaluated include those in both the public and private sector including education, healthcare, parks and retail.
Currently, Jensen is working for The New Home Company's and Riverview Capital Investments' McKinley Village, a new 49-acre urban master-planned community located within the historic East Sacramento neighborhood that held a grand opening last month.
Monarch was formed in May 2015 and is backed by equity partner One Rock Capital Partners, LLC. The New York-based investment firm provides critical access to capital and connections that will allow the venture to grow. Monarch intends to continue building its West Coast presence via additional partnerships with mid-sized, regional landscape firms that generate revenues in the $10 to $50 million range.