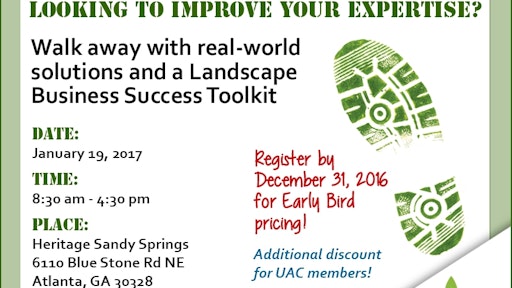 The Georgia Urban Ag Council has teamed up with GreenMark Consulting Group to bring a one-day landscape business workshop to Atlanta on January 19.
If you own a landscape or irrigation business with an annual revenue between $350k and $2 million, this work session will help you plan and implement business strategies to take your business to the next level. You'll come away with a renewed sense of energy, ready to stay the course and keep building your business, along with the essential foundation needed to improve the overall vitality of your company.
GreenMark Consulting Group has developed a proprietary Landscape Business Boot Camp Platform which offers a combination of business and industry expertise and accelerated knowledge of in-depth strategies.
The curriculum is based on GreenMark's 4 Cores of Landscape Business Success:
Guiding the Business
Running the Business
Getting the Business
Doing the Business
Each Core includes Landscape Business Courseware and GreenMark's Landscape Business Success Toolkits which serve as a blueprint to help attendees:
Create a vision, mission and values statement
Create processes for business standardization
Define a branding strategy, market position and sales pipeline
Manage the internal and external customer delivery experience.