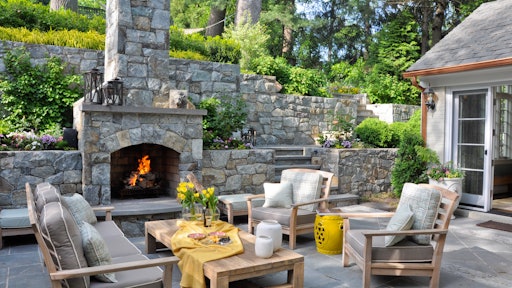 It's time to take the party outside, according to the Houzz 2018 Landscaping Survey, which found that over half of homeowners spend more time entertaining outside after completing landscaping projects (51 percent). More than a quarter of homeowners also report that their usable outdoor area is significantly larger than that of their home (27 percent). So transforming the yard into added living space creates an entertaining haven for the next garden party or backyard barbecue.
The study found that homeowners invest in a variety of elements during landscaping projects that make their outdoor areas more livable, including ample seating for family and guests with lounge furniture (43 percent), dining furniture (34 percent) and benches (27 percent). The addition of fire pits (38 percent), ceiling fans (15 percent) and patio heaters (14 percent) allow people to entertain outdoors year-round, and new string lights (35 percent) and rugs (14 percent) suggest a focus on exterior ambiance.
Technology also plays a role in making the yard entertainment-ready. Of the nearly one in five homeowners who added or upgraded entertainment systems during their landscaping projects (18 percent), three in five opted for a new television (59 percent), followed by wired and solar speakers (48 percent and 42 percent, respectively). One in 10 homeowners also added wired and solar charging stations (14 percent and 11 percent, respectively).
Curb Appeal Part of the Plan
While the majority of outdoor projects take place in the backyard (70 percent), nearly two in five landscaping homeowners update their front yard (39 percent) and more than a quarter work on side yards (30 percent). Homeowners adding or updating elements in the front of their home report that the most important features contributing to curb appeal are beds and borders (41 percent), shrubs (34 percent) and perennials (25 percent). Considering these priorities, it's no surprise that they are also the most popular features installed in front of homes (60 percent, 54 percent and 56 percent, respectively).
The leading reason for homeowners to begin a landscaping project is to improve elements of the outdoor space that have deteriorated or broken down (29 percent). Following a year of unexpected weather patterns, one in 10 homeowners report that their outdoor projects address damage from harsh weather or natural disasters (9 percent), including hurricanes (35 percent), rainstorms (26 percent) and drought (24 percent). Costs for landscaping projects vary widely, with more than half of homeowners who completed their outdoor renovation spending more than $10,000 (56 percent) and nearly one-third of homeowners spending less than $5,000 (32 percent).
Regardless of motivations or budget, the majority of homeowners who completed a landscaping project report that they spend more time outside (67 percent). Some of the other ways that homeowners enjoy their newly upgraded outdoor space include relaxing (62 percent) and gardening (44 percent).
The Houzz survey of more than 750 U.S. homeowners using Houzz who are in the midst of, are planning or recently completed a landscaping project was fielded between February and March 2018.