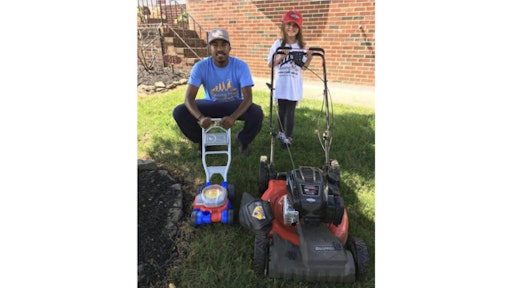 To read Green Industry Pro's in-depth article on Rodney Smith, Jr., please click here.
Rodney Smith Jr. is a mowing machine.
The native of the British island territory of Bermuda has cut lawns of various sizes in every state in the country. One of the biggest was in Vermont, where the founder of the nonprofit Raising Men Lawn Care Service said he used a push mower to single-handedly cut an acre's worth of grass in about two hours.
That's been just one stop in the second rendition (he completed the inaugural campaign last summer) of the 50 States 50 Lawns campaign, Smith's journey to cut lawns in every state for veterans, single moms, and the elderly and disabled.
The organization was born in 2016 during Smith's undergrad career at Alabama A&M. On his way home from school one day, he saw an elderly man mowing a yard. The man appeared to be struggling, so Smith decided to lend a hand. The rest is history.
Providing free lawn care for the less fortunate is one of the most important aspects of Smith's organization, based in Huntsville, Alabama. But it's not the only one.
To read the full original article, please click here.