Photo by Skitterphoto from Pexels
Unemployment is at an all-time-low in the United States, ranking in at 3.7%. While that is great news for the economy, some industries are struggling to fill positions.
The landscaping industry is one sector that is suffering.
Executive director of the National Association of Landscape Professionals (NALP) Missy Henriken told Fox Business that 82% of CEOs have said that they are unable to find qualified employees. 
In 2017, a reported 71,000 jobs were left unfilled in the landscaping industry, and that number is only expected to have risen as H-2B visas - which allows qualified employers to bring foreign nationals to the U.S. to fill non-agricultural jobs - are difficult to get.
The program is typically capped at 66,000, but 30,000 additional visas were allowed in March for the remainder of the fiscal year. 
Still, it's an everyday search for workers. The labor shortage has forced many landscapers to cancel business orders, while some have resulted in closing their companies. 
In order to combat the shortage, some landscapers have begun raising wages and adding benefits.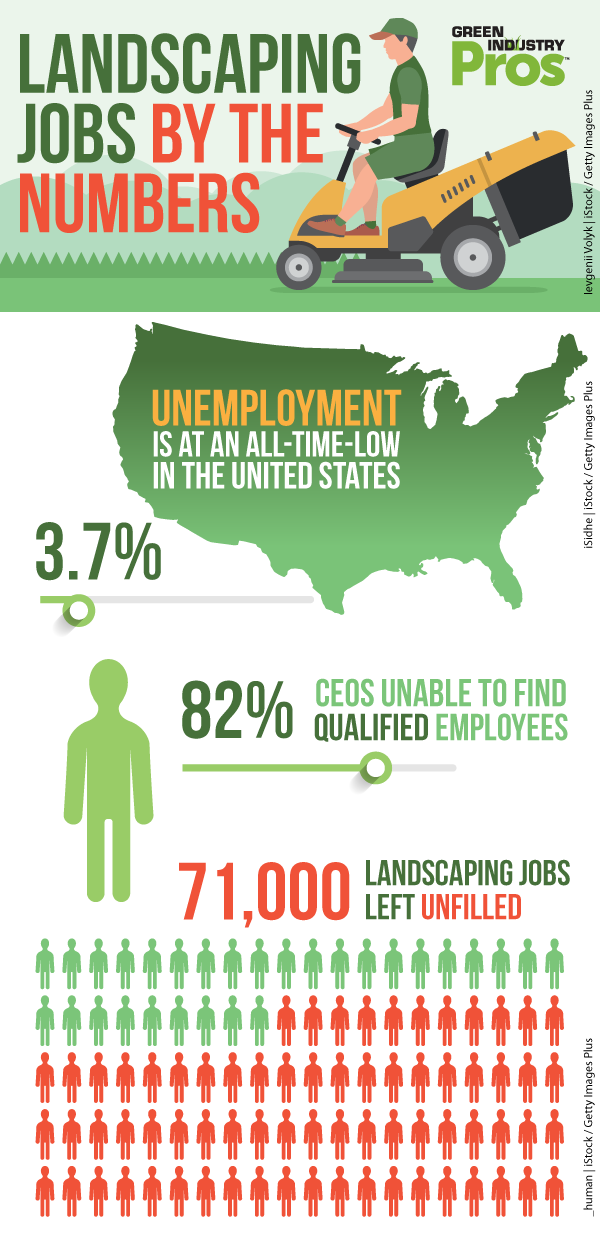 HighGrove Partners has raised its minimum wage from $9 per hour to around $13 per hour currently. While, some veteran crew managers make upward of $20.00. In addition, managers can make more than $100,000.
Meanwhile, other companies have upped their benefits, offering health insurance, development support services and added vacation time. 
Some strategies companies are taking to recruit and retain talent: 
Recruit all year long, to some degree, using certain "soft" tactics continually while adding other "hard" tactics when you're specifically looking to hire
Understand that all positions in your company are not the same and, thus, may require different recruitment tactics
Use a variety of recruitment tools, many of which won't cost much
You have to sell YOUR company – the prospective applicant is a prospective client in this regard
Labor shortage is not uncommon for the landscaping industry and it can have ramifications on the overall U.S. economy. 
As previously reported by Green Industry Pros, landscaping companies looking for technicians and operators should recruit an employee with military training, skills and experience.
According to David Coe, senior vice president of strategic programs for Orion Talent, military veterans perform 4% better than the average employee does. Additionally, turnover among veterans is 3% lower. Landscaping industry companies that can effectively recruit, assimilate and retain military veterans into their organizations can make great strides in closing the skilled labor gap.
In addition to their invaluable experience and skills, military candidates come from a diverse talent pool, comprising 35% minority and women candidates. Coe says if you want technical expertise, leadership experience, commitment, focus and diversity, hiring a military candidate is the place to start.