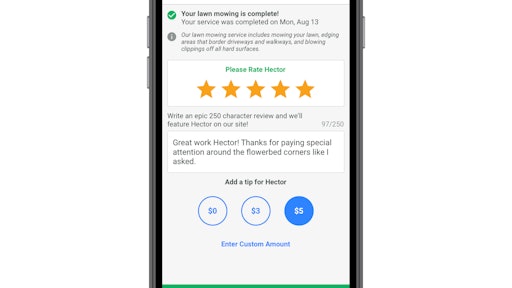 LawnStarter recently released a new feature that allows consumers to tip their lawn care pro through its technology platform that connects consumers to local lawn care professionals. The system additionally delivers:
An optional way for consumers to reward pros who go above and beyond with their work—LawnStarter says 91 percent of its customers indicated they would like a tipping capability when surveyed.
The flexibility to customize a tip to match what the consumer thinks the lawn care pro earned.
Delivery of the entire tip, less credit card processing fees, to LawnStarter pros.
The opportunity to maximize the profitability of LawnStarter professionals.
Compatibility with the LawnStarter mobile app or web platform.
Request More Information
Fill out the form below to request more information about
Rewarding Pros who Go Above and Beyond with their Work