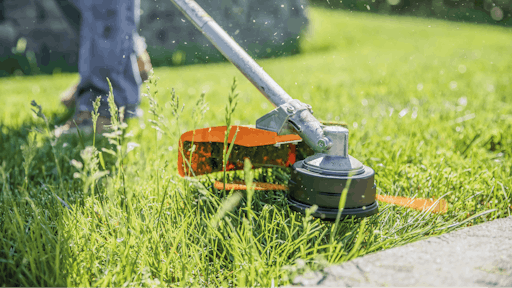 STIHL
The primary use of a weed-whacker or as they're known in the industry, a string trimmer is to trim the grass to a certain height in those hard-to-reach areas that a lawn mower might not be able to fit. How complicated could this simple piece of equipment possibly be?
What Contractors Want and Expect in a String Trimmer
Tony Buxton, senior product manager for Milwaukee Tool believes a landscape professional should be looking for a string trimmer that delivers the power to take on demanding applications, a quick throttle response, and a well-balanced tool. "A variable speed trigger gives users control over the power output, making it possible to tackle both demanding applications and sensitive areas," he says. "Having a large cutting swath is important when working with larger areas, providing the user greater maneuverability and reduced fatigue."
Andrew Johnson. STIHL Inc. product manager notes that overall power, durability, performance, and dependability ultimately remain at the top of the list. "Optimal power-to-weight ratios are essential for professional users," he says. "Manufacturers are keeping this in mind, designing products that are both powerful, yet lightweight."
In addition, Johnson says reduced vibration, fuel efficiency, comfort and safety features are important factors in choosing products as well. "Our professional trimmers and brush cutters are also built for comfort, featuring anti-vibration technology and various harnesses for comfortable operation and reduced operator fatigue," he says.
Continuing, Johnson notes that gas vs. battery power should also be considered as an option depending on the application and usage.
ECHO product manager Mike Taylor agrees that string trimmers make up a larger category with widely varying levels of performance and durability that span the needs from entry-level homeowners to heavy duty professionals. "Prior to making a new string trimmer purchase, professionals should ensure that the unit(s) that they are looking at are a good fit for their expected usage," he says. "Focusing on professional level equipment will ensure that the end users purchase equipment that meets daily needs along with the delivering the longevity of a unit that their business requires to keep equipment costs down and employees working."
Taylor notes that professionals usually require a more powerful trimmer to cut quickly and efficiently when the user needs it to perform. Some commercial grade models also offer a high torque version that provides greater torque at the cutting head, enabling faster cutting in heavy weeds.
Other areas of interest to consider according to Taylor include the following:
Ease of serviceability. "Many professionals service their own equipment and finding models with tool-less access to air filters, spark plugs, and fuel filters will save the user time and money over the life of the equipment, Taylor says. "Buying a model with an easy-to-reload trimmer head will also decrease downtime in the field."
Overall cutting swath. "All other things being equal, a larger cutting swath enables the user to cut the required material in less time," he says.
Over molded handles and trigger provide extended comfort over a day of use.
Vibration reduction mount create a more comfortable experience over the long day and will wear less on the user keeping productivity high.
Also, multi-use tool heads or attachment systems are becoming more common within the outdoor power equipment market.
"It ultimately depends on the end-user's needs," Johnson says. "For most pros, adding a multi-use tool or trimmer gearbox attachments to a fleet can be very beneficial. Giving users the option to change out gearbox attachments allows trimmers to function with more power and versatility, which will enable users to get more use out of their equipment."
Buxton notes that the attachments are ideal for less demanding applications where the tool may not be needed for extended use. "There has been an increasing trend in attachment systems across the outdoor equipment market," he says. " Investing in a string trimmer with an attachment system gives the user more versatility for a range of applications at a lower cost. We have seen professionals use attachments as supplementary tools, leveraging the equipment for less frequent applications. For example, a professional would use a hedge trimming attachment for a property with only a few shrubs rather than needing to bring along a dedicated unit, also reducing the storage footprint in a trailer."
Equipment features
Selection of handle shape depends on the task at hand and often end user preference. Generally, straight shaft trimmers, are the preferred choice for most professional landscapers due to increased reach and cutting torque from the gear reduction. However, Buxton suggests there is some regional divide with U.S. professionals favoring the handle and trigger in an inline design, versus Europe and Asia where there appears to be more of a preference for a bike handle style.
The bike handle often involved use of shoulder straps and is intended for use over extended periods. Johnson notes that users can add harnesses or trimmer straps to help distribute the load from their hands to their shoulders. "These accessories help reduce operator fatigue and make it easier to use trimmers and brush cutters for extended periods," he says. "Not only do trimmer straps and harnesses help minimize the strain associated with extended use, but they can also be required gear depending on the job." Per ANSI standards, a double shoulder harness is required when using a circular saw blade on a brush cutter.
"Manufacturers typically use a softer rubber over mold on the handles for vibration reduction as well as improved user comfort over a long day," Taylor says.
Unlike some things, bigger is really better when it comes to string trimmer line. The general rule is that the trimmer line's thickness does determine a trimmer's performance in terms of clearing power and run time.
Manufacturers offer a variety of different diameters and shapes to accommodate various cutting scenarios. "Users should determine which trim line to get based on their application and performance needs," Buxton says.
In determining preferred diameter, Taylor says it is important to refer to the unit's owner's manual for specific diameter and designs acceptable to the unit and trimmer head. Most professional landscapers utilize a .095 in. diameter line for residential properties and a heavier gauge .105 or .130 in diameter line for heavy clearing.
"The design of the cutting line will affect the performance of the unit," Taylor says. "Some trimmer lines are designed for aggressive trimming while others are designed to be quieter for use in residential areas or on hospital or school grounds. Thicker trimmer line increases the load on the engine on a gas unit or the motor on an electric unit, resulting in a decrease in overall runtime of the unit, and often also resulting in decreased trimmer head speed."
Johnson notes that while line thickness with trimmers does play a role in durability, so does the flexibility. "Stiff, brittle line tends to fragment and break/deteriorate faster than newer/fresh trimmer line," he says. "Fresh trimmer line every season will help increase working times and life expectancy of trimmer head spools without having to reload the spool as often. If the trimmer line is dry or brittle, users can place the spool of trimmer line in water for up to 24 hours."
Maintenance metrics
Buxton says with any string trimmer, replacing the trim line and trimmer head is a part of regular care.
"The ability to reload trimmer line quickly and easily is a very important feature to every user of string trimmer," Taylor adds. "Trimmer line will need to be reloaded often, and an easy-to-use trimmer head that can take the hassle out of refilling your trimmer line is a valuable feature for both a homeowner and professional."
The frequency of use and type of application determines how often these parts need to be replaced.
"Taking proper care of your equipment is incredibly important and can preserve the life of your trimmer," Johnson says. "Not only will this lead to less downtime on the job, but properly maintained equipment will pay off in the long run and can help you save money."
For example, gas-powered string trimmers require regular engine maintenance. Air filters, spark plugs, carburetors, and recoils are all components that need to be maintained and replaced regularly to keep the engine running properly. Easy ability to locate and replace these common items is a consideration.
Conversely, battery-powered equipment alleviates some pain points, needing no engine maintenance.
"We are seeing major advancements in battery-powered solutions in this industry, and some are viable replacements for current gas-powered tools," Buxton says. "There has been an increasing number of professionals adopting this technology, embracing the ease of use and low maintenance quality of the tools."
in general, as suggested by STIHL's Johnson, a few key maintenance points include:
Prior to use, visually inspecting the trimmer to gauge its overall condition and check for issues such as leaks.
Clean or change the air filter regularly.
Users should regularly check the fasteners, ensuring they are snug and replacing any that may be missing or damaged.
For gas-powered trimmers, be sure to always use the highest grade of gasoline.

STIHL

recommends high-octane fuel mix or a mixture of high-quality gasoline with no more than 10% ethanol and two-stroke air cooled engine oil.
Use your service dealer to assist with troubleshooting common issues and help ensure that proper maintenance is performed on your equipment.
What's all that noise
There's no question that there have been major developments over the past five years in battery-powered outdoor equipment. Many units are running with the same amount of power as the gasoline-powered lines of equipment.
The benefits of battery-powered tools are clear: no mixing of gas and oil, no pull starts, reduced noise, no emissions, and no engine maintenance.
"By having a developmental focus on professional landscaping needs, manufacturers have made great strides towards increased RPM, larger cutting swaths, and extended runtime," Buxton says. "With these advancements, we have seen a trend of professionals shifting their equipment purchases to include a mix of gas and battery-powered solutions."
More government regulations are approved on reduced noise and emissions. "By utilizing both gas and battery-powered tools, the professional market is gaining a better understanding of how the technology can benefit them now and more so in the future when it has advanced enough to fully replace their gas units," Buxton says.
Although the units are getting more powerful and battery technology is improving, resulting in improved run times compared to older battery-powered trimmers Taylor says that most professional landscapers are still purchasing gas-powered trimmers, and battery technology still needs significant improvement before it can match the power and run time of gas.
Companies in this article