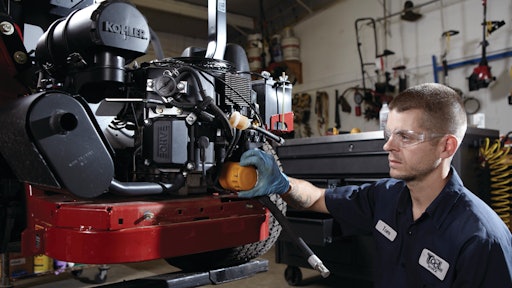 Much like the cost of repairs can vary, how much outdoor power and small engine mechanics make varies, too. Their salaries can be dependent on location, industry, years of experience and the different skills they have.
For outdoor power and small engine mechanics, the majority of their daily tasks can include diagnosing, fixing and ensuring the upkeep of small combustion engines. They might also adjust points, valves and tune ignitions systems.
It's important that they have a wide range of skills and knowledge on different types of equipment since their work can cover anything from lawnmowers and chainsaws to generators and some construction equipment.
Normally, outdoor power mechanics and small engine mechanics learn through on-the-job training for this occupation, or they can receive their certifications at community colleges or vocational schools that have programs that cater to this field.
This job is good for people who like hands-on work and who also like to work on their own with minimal supervision. Customer service may also play a role in their day to day since they many need to educate customers on equipment maintenance. It depends on their choice of workplace.
Outdoor power equipment and small engine mechanics primarily work in an indoor garage, but many can also work from farms, home improvement stores or small family-owned businesses. Some mechanics might also do field repair and will travel to the customer's location.
If you are a landscape contractor or an outdoor power equipment dealer, depending on the size of your business, your fleet and tools, you might also employ a small engine mechanic on staff.
So, consider skill set, certifications and experience level when looking at these salary statistics to determine if you are being fairly compensated or if you are trying to determine how to fairly pay your small engine mechanic on staff.
According to the website Payscale.com:
The average salary for outdoor power mechanics in the United States is somewhere between $25,000 to $55,000.
The most popular skills affecting salary are:
Electronic troubleshooting
Troubleshooting
Equipment maintenance
Mechanical tool repair
Pay by experience:
An early career mechanic (1-4 years of experience) earns an average of $13.90 an hour
A mid-career mechanic (5-9 years of experience) earns an average of $16.10 an hour
An experienced mechanic (10-19 years of experience) earns an average of $16.81
According to May 2018 data from the Bureau of Labor Statistics:
There are roughly 31,760 people employed as outdoor power and small engine mechanics. The average wage for all occupations is $17.76 per hour or $36,940 per year.
The top percent of earners made $26.06 per hour or $54,210.
The top paying industries for this occupation were:
Junior colleges (educational services) - $58,140
Nonresidential building construction - $51,360
Machinery manufacturing - $48,000
The top paying states for this occupation:
Hawaii - $48,610
Connecticut - $48,540
New Jersey - $44, 800
Alaska - $43,510
Massachusetts - $43,090
Overall, this occupation is more heavily dependent on skills and experience than on education. If you're looking to hire an outdoor power equipment or small engine mechanic, or apply to be one, think about whether you or the possible employee possess the skills that fetch a higher market worth.
Small engine mechanic training
Training and certification opportunities can be found at the Equipment & Engine Training Council (EETC). EETC is non-profit association with the goal of addressing the shortage of outdoor power equipment service technicians. Anyone can sign up for its online training modules and take its certification tests online. EETC tests are based on industry standards and are updated annually.
A new feature on EETC also helps dealers connect with mechanics who are looking for work. Dealers can upload job postings and mechanics can upload their resumes. This can be a good way for young or new mechanics to get started in the field. It can also be a good way for mechanics already in the field to find new opportunities.
Additionally, CollegeGrad.com has useful career description, training options and expectation information for small engine mechanics.