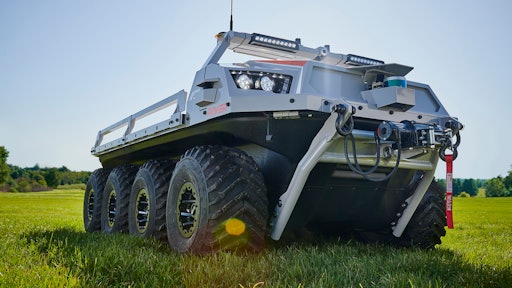 Briggs & Stratton Corp.
Over the river and through the woods — and across the swamp and through the mud — to wherever we need to go with ARGO.
"We take people places a typical four-wheeler ATV is just not able to go," says Andy Buck, Director, Commercial and Robotic Sales at ARGO, a manufacturer of extreme terrain amphibious vehicles. "Our products can swim across water, go through the mud, drive over logs — we can 'Go Anywhere.'"
Designed to traverse even the most challenging environments, ARGO vehicles have been the standard for recreational, commercial, and military applications since the company's establishment in 1967. And until recently, every ARGO unit took on difficult terrain using gasoline engine power.
"Now, we're taking the same competencies we've built up over time and applying those to unmanned robotic platforms. We can get an ARGO unit anywhere people need it to go, just without the people," says Buck.
That means taking the dull, dirty and downright dangerous jobs out of people's hands and passing them on to an autonomous vehicle. "If we can provide a robot that can get anywhere someone might need it — whether that's bringing supplies to military troops in challenging, hostile battlefields, or resupplying equipment to people working in dangerous commercial applications — we're taking people out of a treacherous situation."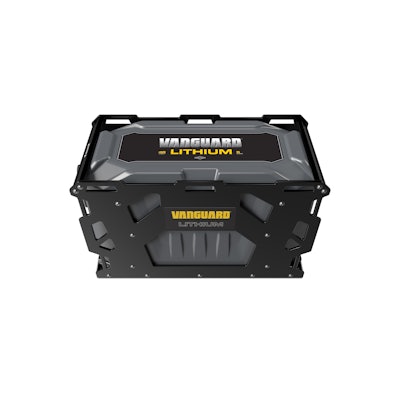 Leader of the (battery) pack
Recognizing the opportunity to increase safety with battery-powered autonomous vehicles, ARGO engaged Vanguard®, a commercial brand of Briggs & Stratton Corporation, to develop a lithium-ion battery that could stand up to the rigorous environments in which its vehicles operate.
With a history of powering ARGO vehicles with its durable gas engine portfolio, Vanguard was well aware of the paces customers put ARGO products through. "Vanguard was already exploring battery development when ARGO approached us with this project," says Dave Schulenberg, Product Manager, Alternative Power at Briggs & Stratton. "We saw an opportunity to develop a battery that would meet ARGO's high standards and simultaneously field-test our battery's rigorous performance capabilities."
ARGO provided a laundry list of power needs: durability under duress, serviceability for ease of maintenance, integrated components for seamless performance and increased safety. And finally, whatever powers an ARGO unit has to go anywhere the vehicle can go — including water.
Working closely with the ARGO team, Vanguard developed a first-of-its-kind battery solution.
It can provide scalable power from 5-20 kWh (crucial in the limited space available on the ARGO J8 autonomous unit), withstand the vibration and impact of rugged environments and is dust-, dirt- and water-resistant. Plus, the battery can be serviced and repaired under a singular part number instead of recycled and replaced, as is the current industry standard.
The battery also incorporates diagnostic tools, which have proven handy for ARGO's global operations. "In the past, if we had a unit halfway around the world with a maintenance need, we couldn't do much," says Buck. "With the diagnostic capabilities on this battery, we can easily advise on a solution regardless of location — which is key."
The battery also features internal contactors, which means when the vehicle is off, the battery is off. "That's fairly unique on a battery, but it's a critical component for our customer's safety," says Buck. "When maintenance needs to be performed, having the ability to completely shut off all the power within the system is a crucial feature."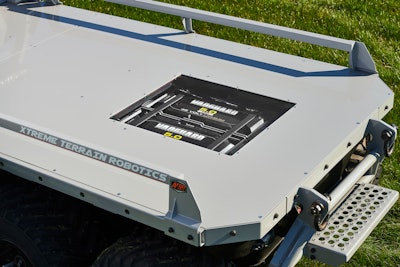 A unique solution
The Vanguard Commercial Lithium-Ion Battery Pack is the first total battery solution to be introduced to the market. "It's absolutely a unique power solution," says Schulenberg. "The customized commercial lithium-ion battery pack, controller and charger work seamlessly together to provide powerful performance, packaged in a sealed plastic enclosure and wrapped in a roll cage for extreme durability."
After putting it to the test on the ARGO J8, the Vanguard battery got a seal of approval from ARGO. "Our vehicles go into some pretty extreme environments, and everything needs to be built to the same rugged level. The Vanguard battery absolutely meets that standard while delivering the power our units need," says Buck. "There's a lot of companies in the world making lithium-ion batteries, but there aren't many that take it to the professional level of Vanguard."