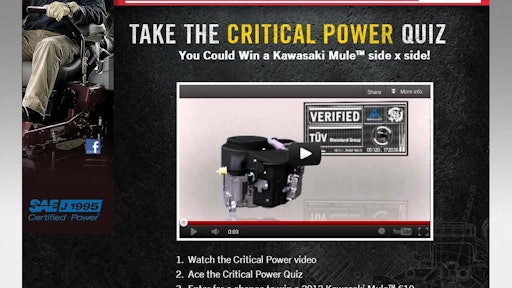 The Engine and Power Products Division of Kawasaki Motors Corp., U.S.A. has launched an online quiz challenging lawn care professionals and dealers/retailers to answer questions about the company's Critical Power engine ratings. One fortunate responder will win a Kawasaki Mule 610 utility vehicle, valued at $7,499.
Critical Power is the name Kawasaki has given its recent move to help alleviate consumer misunderstanding over horsepower labeling and "usable" power.
Quiz Details. Participation in the online quiz, which runs through August 14, 2012 is relatively simple. After watching a basic informational video about Critical Power, people are asked questions regarding elements of what they've just seen; participants are then entered into the drawing.  In addition to the Mule UTV, the company is also offering a selection of handheld power products and branded clothing as part of the rewards structure. 
Details for the online quiz can be found at www.kawasaki-criticalpower.com. While the prize structure is limited to the professional lawn care community, anyone is able to take the quiz.
Background on Critical Power engine ratings. Kawasaki says its SAE International-certified power ratings no longer reflect the wide tolerance that is permitted by SAE J1940, the generally applied industry standard. The new, stringent testing and rating method, in accordance with SAE J2723, assures consumers are receiving the power they expect for their application needs.
Purchasers of Kawasaki-powered lawn care and other maintenance equipment can be assured that the production engines will produce at least 98% of their rated values, not the less stringent variable permitted under SAE J1940, the company says.