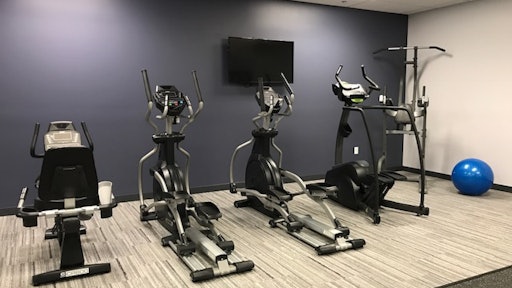 The Engines Division of Kawasaki Motors Corp., USA, last year announced the pending consolidation of most of the division's business components in a significantly renovated headquarters facility in Grand Rapids, Michigan.
With the project's completion expected later this year, the open design of the facility will allow for greater inter-departmental collaboration, and provide staff with modern, light-filled work and meeting spaces.
Highlighting the 200,000-square-foot building's new look will be a state-of-the-art research and development (R&D) center, previously outsourced to Kawasaki Motors Manufacturing Corp., USA, an engine production facility in Maryville, Missouri, which transferred about 12 employees to the new renovated facility. In fact, one of the main factors in the move to Michigan was to recruit more engineers for the R&D division. The combined R&D spaces within the renovated building will command a large portion of the project and keep Kawasaki's engineering staff in close proximity to the sales team, with the goal of ultimately providing increased responsiveness to Kawasaki customers and driving innovation of new product.
The new offices and cubicles were designed so that anticipated future expansion can be accomplished with minimal disruption, while each employee enjoys the comfort of a stand-up/sit-down desk. The blending of light colors and wood with Kawasaki's signature red logo color provides a contemporary feel to both work and public spaces.
Rodger Howe, divisional vice president, said, "The new design not only opens up the work areas, but it provides an environment conducive to individuals' abilities to better communicate with other team members, both within and outside specific groups."
Kawasaki currently markets more than 40 general-purpose engines, most of which are produced by Kawasaki Motors Manufacturing Corp., USA, in its Maryville facility, which has turned out in excess of 8 million units.
Kawasaki Engines, a division of Kawasaki Motors Corp., USA, distributes gasoline engines for landscape, industrial and consumer markets. The division is headquartered in Grand Rapids. It sells to and services customers through a network of more than 40 original equipment manufacturers (OEMs), 15 distributors and more than 7,500 independent dealers throughout the United States, Canada, Australia, select countries in Central and South America, and the U.S. Trust Territories of the Pacific, including Guam.