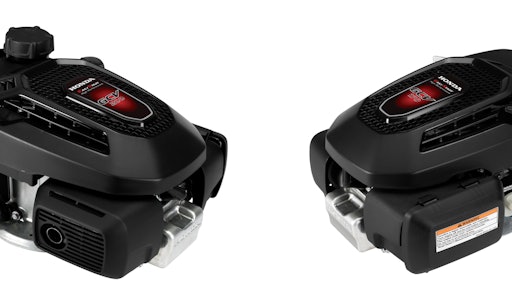 Honda Engines has launched two new engines designed specifically to increase the performance of pressure washers—enhancing the user experience and making jobs easier. Replacing the Honda GCV160 and GCV190, the new Honda GCV170 and GCV200 pressure washer engines deliver more power and more torque for premium residential applications, along with a range of technological attributes, innovative features and a simple design that make the new models easier to operate and maintain.   
The GCV170 is an increase in torque of 18 percent and a nine percent horsepower gain over the GCV160 and the GCV200: an increase in torque of 13 percent and 10 percent horsepower gain over the GCV190.
Because pressure washers often are operated in tough outdoor conditions after long periods of storage, in temperature extremes, with high loads, and with frequent stopping and starting the power and torque of the pressure washer engine are factors that affect performance. In addition to higher net power output, both engines also offer more torque and power to the pump, resulting in more consistent pressure and cleaning capability, reducing the need for the operator to repeat spray.
"The Honda GC Series, part of our legendary family of premium engines for residential applications, provides efficient power, superior fuel efficiency, and quiet operation for customers who rely on their outdoor power products to get jobs done," said William Walton, vice president, Honda Power Equipment. "When it comes to pressure washing, the new Honda GCV170 and GCV200 models enhance our current GC Series, offering a host of added benefits—delivering more power and torque than earlier models and innovative design features that provide for an easy, enjoyable operating experience for consumers."
Reliable Power in a Pressure Washer Package
Both all-new Honda GCV170 and GCV200 pressure washer engines meet the SAEJ1349 net horsepower standard, which rates engine power with the muffler and air filter in place. This net standard rating accurately reflects real-world operating conditions. The overhead valve (OHV) design that increases combustion efficiency, allowing for lower compression ratios and greater power output.
The Honda GCV170 and GCV200 pressure washer engines are designed with a number of innovative features that make them consistently reliable, season after season:
Honda Cycloflow technology enhances the air-fuel mixture and makes it easier to start the engine and idle smoothly while making it more resilient to poor quality fuel. New V-shaped valves and a pent-roof shape of the combustion chamber enable air in the cylinder to flow more smoothly. A longer stroke also enhances turbulence in the cylinder, which helps the mixture of air and fuel.
A fuel off position allows the user to stop the flow of fuel to the engine when the pressure washing is complete. The Fuel Off position allows the engine to run until the majority of fuel in the carburetor is consumed, preventing sticky carburetor buildup that makes for cleaner storage and easier future starting.
The addition of auto choke and relocation of the wax thermostatic element from the top to the side of the cylinder improves heat transfer and makes for easier engine starting in all conditions.
Simple and Easy Operation
The new engine design reduces the number of steps required to start the engine by 75 percent over previous models. Additional user-friendly features include a quick-drain oil tube, a larger fuel tank opening, easy-access spark plug, captive carburetor bolts and a finger-operated filter cover make quick work of disassembly with fewer tools and quicker repairs.
Also, a new muffler structure and resin protector reduce engine noise and improve operator comfort and safety and the enhanced balance of the crankshaft reduces engine vibration.
The GCVC200 and GCV170 are designed with a polygon-square shape with a sleek flat top that leaves room for the pressure washer manufacturers to include their brands and logos and fit neatly into the frames of pressure washers.
Both models carry a two-year non declining warranty. Parts and services will be widely available via the Honda national network of dealers.