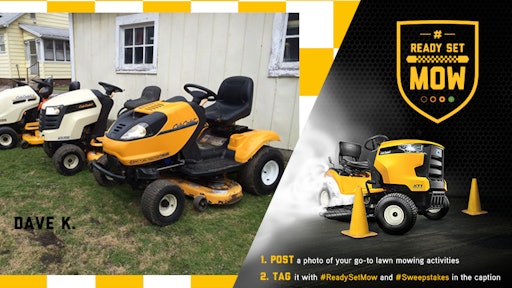 Cub Cadet has partnered with landscaping expert and TV personality Jason Cameron (of Desperate Landscapes on the DIY Network) to encourage homeowners to start their engines to fuel their pursuit of a great American backyard oasis.
The "Ready Set Mow Challenge" encourages homeowners to submit a photo of their lawnmowing activities for a chance to win a trip to an NHRA race and compete for a grand prize of the Cub Cadet XT Enduro Series lawn tractor – the first consumer mower equipped with an electronic fuel-injected engine.
Social media posts that include #ReadySetMow #Sweepstakes could be selected to be spotlighted on the Cub Cadet social pages. Two finalists will be chosen at random in June to travel to Bristol, TN, as a VIP guest of Cub Cadet at the NHRA race and compete head-to-head in lawnmower feats of strength to win the Cub Cadet grand prize. Fans can also enter when they participate in Cub Cadet's Strongsville Experience, a mobile showcase of the top Cub Cadet products as it tours nationwide. The tour features products and experiences such as:
Cub Cadet XT Enduro Series – For the first time ever, fans will be able to experience the new Cub Cadet 547cc EFI engine on the XT2 LX42 EFI Cub Cadet lawn tractors. Cub Cadet's new EFI engine reduces emissions and delivers excellent fuel consumption – using up to 25 percent less fuel than carbureted engines.
Cub Cadet Powered by CORE -- This new line of hand held power equipment uses sophisticated CORE motor technology to deliver more torque with longer runtimes. With zero emissions, little noise and torque levels equal to two-cycle engines, it brings a new level of power to outdoor power equipment like string trimmers, hedgers and blowers.
Zero Turn Mowers – Cub Cadet pioneered zero-turn mowers with steering wheel technology and they continue to innovate with the world's only electric zero-turn rider with steering wheel control and four-wheel steering. Fans will be able to test out the maneuverability of Cub Cadet zero turns at the obstacles courses set up at the Test Drive Experience.
"The Cub Cadet Strongsville Experience will provide one-on-one interaction, hands-on demos, games and giveaways to inspire turning that backyard into an area of pride," said Cameron.
Visit CubCadet.com/ReadySetMow to learn more about the program, official rules and when the Cub Cadet Test Drive Experience will be in your area.