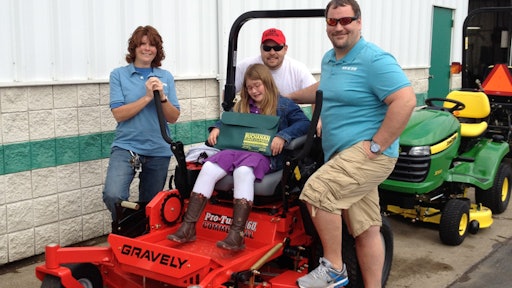 Gravely has announced the winner of the Experience Air Gravely promotion launched at the 2011 GIE+EXPO in Louisville, KY. Chris and Cindi Linville, owners of Mow Me Over in Beaver Creek, OH, received a new Pro-Turn 400, Gravely's newest commercial zero-turn mower.
Buchanan's Power Equipment, a Gravely dealership, in Lebanon, OH, delivered the mower to Chris and his family and crew.
"We're very excited to add the Gravely Pro-Turn 400 to our fleet," Chris Linville said. "It has made a huge impact on our business by not having to start the year off purchasing a new mower. The mower is definitely well built, and we're impressed with the way it drives and handles. We're very happy with its performance and cut. Gravely has really made some tremendous improvements in the commercial mower industry."
Mow Me Over has been in business since 2004. The family-owned company offers landscaping and lawn care services for both commercial and residential properties.