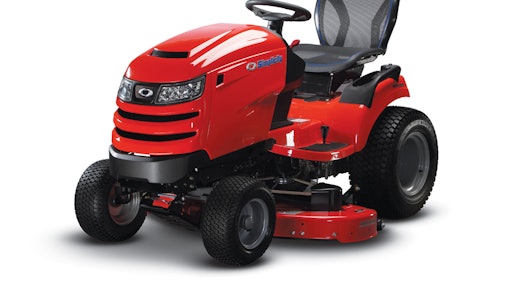 Briggs & Stratton says independent market research has identified that suspension is a highly saleable feature—and is now available on 2013 Simplicity tractors.
The 2013 Simplicity tractor lineup is comprised of the Broadmoor, Conquest (pictured) and Prestige.
Benefits of suspension. Combined with a high-speed transmission, Simplicity's exclusive, patent-pending suspension system absorbs vibration and uneven terrain, so mowing speeds don't compromise comfort. In addition, by absorbing shock to the user and tractor chassis, operators can take advantage of higher speeds while maintaining a high-quality cut.
"Our new suspension system is the perfect match to Simplicity's faster transmission," said Troy Blewett, director of dealer channel marketing, Briggs & Stratton. "Now, the floating mower and tractor move independently for a perfect cut and smooth ride every time. By pairing our famous Free-Floating mower with our game-changing suspension, we have redefined the greatness of Simplicity tractors."
Rear suspension is available on the Broadmoor, while front ride-dampening shocks and rear suspension are available on the Conquest and Prestige.
Other features of the new tractors. Brought back by popular demand, the 44- and 50-inch-deep-profile mower decks have improved cast-aluminum spindles with larger bearings for premium cutting in all mowing conditions, along with pro-style durability. Also, 52-inch fabricated-steel mowing decks are available.
Coupled with a new suspension system, the following styling elements have been incorporated into the revamped Broadmoor, Conquest and Prestige tractors:
Aggressive new steel hood design and grill
Hood intakes for better engine cooling
Improved instrumentation with optional tachometer, height-of-cut indicator and maintenance reminder
Larger, sturdier front bumper
Mesh seat for a cooler, more comfortable ride
Powerful LED headlights
New

Simplicity

badge design
Push button start for quick, easy starting
Simplicity tractors are powered by Briggs & Stratton Professional Series engines. The engines offer consistent automotive-style starting through electronically controlled fuel management and a mechanical compression release for reliable starting in all temperatures. New for 2013, Simplicity tractors come with a three-year residential products limited warranty, or 90-day limited warranty for commercial use, on the unit and engine.
Companies in this article