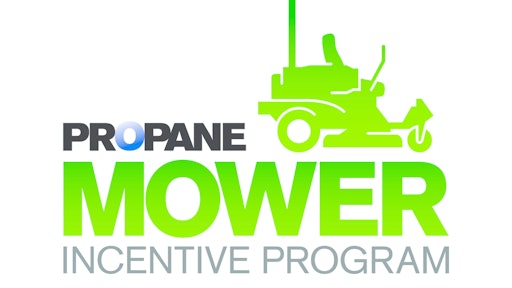 The Propane Education & Research Council (PERC) recently extended its Propane Mower Incentive Program through 2013, giving landscape contractors another full year to apply for more than $1 million in incentives toward the purchase of new propane-fueled commercial mowers or propane mower conversion kits.
Applicants accepted into the program can receive either $1,000 toward each newly purchased propane-fueled commercial mower or $500 toward qualified mowers converted to run on propane. The incentive can be applied toward up to 25 mowers per applicant, including both new and qualified conversion propane mowers. Program participants must report to PERC on the equipment's performance and usage for one mowing season.
Under new guidelines, new or converted propane commercial mowers must be equipped with a 36- to 72-inch cutting deck. Converted mowers must be fairly new with fewer than 250 hours of operation. Conversion kits must meet Environmental Protection Agency (EPA) or California Air Resources Board (CARB) emissions requirements and cannot void the original equipment manufacturer's warranty on the engine.
Applicants can combine mower incentives from the program with any qualifying state propane gas association rebates or manufacturer rebates.
For more information about the Propane Mower Incentive Program, visit www.poweredbypropane.org.
Contractors already learning about benefits of propane. Landscape contractors applied for nearly 300 incentives last year when the program was launched on a limited basis, according to Jeremy Wishart, projects manager at PERC.
"Propane means savings on fuel and operating costs, and propane virtually eliminates spillage," Wishart said. "More than 30 models of propane-fueled commercial mowers are available from industry-leading brands, and existing equipment can be converted to run on propane."
Propane-fueled mowers can improve a landscape contractor's bottom line when compared with gasoline-fueled mowers. Propane-fueled models lower operating costs, are approved for use during ozone action days, offer convenient on-site fuel delivery, and virtually eliminate fuel spillage and loss. Propane mowers reduce greenhouse gas emissions by nearly half compared with gasoline mowers, according to PERC. As an abundant fuel made in the United States, propane can help increase the nation's energy security.