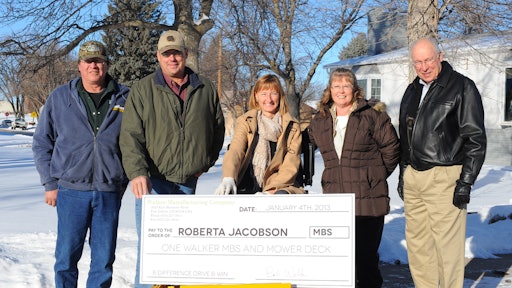 Morgan Dolly, of Fort Plain, NY, and Roberta Jacobson of Gordon, NE, were both recently surprised with brand new Walker Riding Mowers as part of the Walker Mowers B Difference Drive & Win Contest.  
Walker Manufacturing representatives were on hand to present the mower, including company president Bob Walker to personally hand off the keys to both winners. 
The worldwide contest included 2,505 entries from 49 states, four Canadian provinces, Australia, New Zealand, Ireland, Spain and South Africa.
Equipment demos at the heart of it. Each entrant received demonstrations of Walker B models. Dolly received a demonstration in September 2012 from Keith Barry, a representative from Precision Work in Port Washington, NY (Walker's Northeast distributor). Jacobson was entered into the competition by receiving a mower demonstration from local dealer Hansen Walker Mowers. 
Watch the contest video at http://walkermowers.com/contest/index.php
Learn more about the Walker B Series of riding mowers.