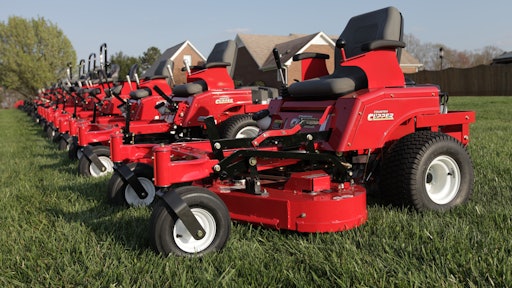 Country Clipper Mowers is proud to announce a new redesigned mower lineup for 2013 consisting of the Wrangler, Edge, Edge XLT, Challenger, Charger and Defender.
The physical appearance of the machines has been redesigned with smoother edges, along with enhancements to the fuel tanks, transmissions, tires and deck construction.
Country Clipper has added a Briggs & Stratton engine option, in addition to Kohler and Kawasaki engines. The 2013 lineup includes engines from 21.5 to 35 horsepower and deck sizes ranging from 41 to 72 inches.
All Country Clipper mowers are designed with a patented stand-up deck for easier cleaning and maintenance on the underside of the deck. Also, only Country Clipper offers users a "Point and Go" joystick steering option in addition to the traditional twin-lever steering.
Request more information from Country Clipper.