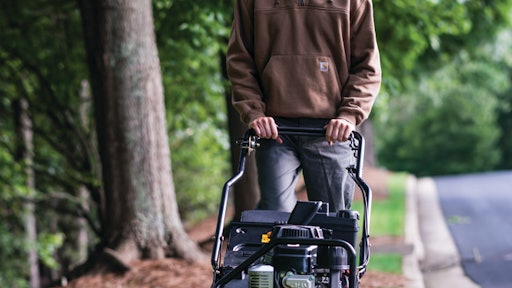 The new Exmark Commercial 30 walk mower is poised to increase a contractor's mowing productivity by 43% as compared to a traditional 21-inch walk mower. That, coupled with a handful of durability-enhancing features, has some early adopters feeling pretty good about their decision to purchase some Commercial 30s this season.
Contractor Todd Guilmette, owner of Unique Environmental Concepts in Mableton, GA, purchased eight units after having demoed them for two weeks this past fall (arranged by his dealer, Howard Brothers). Guilmette wishes he'd have purchased many more; he also bought 20 new Exmark 21-inch mowers this spring.
"(The Commercial 30) is everything we've been missing to help us improve our production time," Guilmette says. "That's for two reasons. First, it's the extra 9 inches of cut. Second, we're getting a better quality of cut because of the twin-blade system."
Always a need for a "smaller" push mower. When it comes to push mowing, the perception of using larger 36- or 48-inch mowers on certain properties can be negative, Guilmette points out. "Contractors need to figure out a way to increase production time while giving certain clients what they want (a smaller, lighter mower on their property)."
Contractor Adam DeLoach agrees. "Push mowing is a strong focus with our customer base," says DeLoach, Oklahoma City branch manager for Tidewater Landscape Management. "A lot of the soil types here have a tendency to rut. We have quite a few properties where a big rider won't work, like up around office buildings."
Still need durability, productivity. That's why DeLoach has been looking for a walk mower that would leave a fine cut, but also had "a little more back to it" and would last for more than a season. He bought five Commercial 30s this year from dealer Mike's Lawn Equipment in Harrah, OK. DeLoach says he's looking to get a few seasons out of them.
Guilmette expects to get three, maybe five years out of his mowers. "This mower has those attributes that almost make you feel comfortable throwing it off your truck," he says in jest. "The deck is heavier in certain areas. The wheel settings are easy to adjust but are also really beefed up."
DeLoach is also fond of the cut-height adjustment system. "It's significantly better than anything I've seen in the past. It's much more durable."
"The other key for us is service," Guilmette adds. "The transmission always seems to go out on smaller push mowers after heavy use. The transmission on the Commercial 30 is easy to take off (just four bolts) and service. Plus, even if the transmission goes out, you can still push this mower on level ground."
Good vacuuming action. Guilmette has also been impressed by the vacuuming action of this mower. When demoing it last fall, his crews used it to mulch leaves. "The Commercial 30 really chews up the leaves into organic mulch, which we dump in the common areas on the HOAs we service."
Room for improvement. The only criticism Guilmette has is that you have to tip this rugged mower on its side in order to drain the oil. "I'd like to see Exmark drill a hole in the deck so it's easier to drain the oil."
DeLoach says one of his crews busted a cable already this season. "Nobody wants that type of thing to happen, but it does," he adds. "The only other thing I'd say is that it's pretty heavy (weighing roughly 170 pounds, a good 40 to 60 pounds heavier than the typical commercial-grade 21-inch push mower). "But that heavier construction is part of what makes it such a good mower. It's still easy to maneuver around."
Rate, review or request more information on the Exmark Commercial 30.