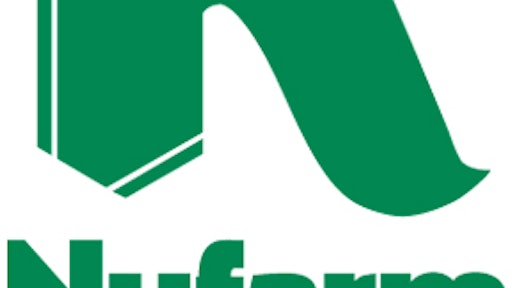 Making a difference on the home front for the families of deployed service members and post-9/11 disabled veterans with service-connected disabilities is what the GreenCare for Troops initiative is all about.
That job is a little easier now with the support of Nufarm following its $150,000 contribution to Project EverGreen on behalf of GreenCare for Troops.
The announcement was made by Nufarm vice president of sales, turf and ornamental, Sean Casey, and Project EverGreen executive director, Cindy Code, at the Nufarm National Sales conference in Hilton Head, South Carolina.
"Nufarm has been actively involved with Project EverGreen since its inception. Nufarm is keenly aware of the importance of community outreach and involvement, and contributes or participates in several community activities each year," said Casey. "GreenCare for Troops aligns closely with our values and the standards we use for deciding which activities we participate in. Its nationwide coverage allows all of our employees to actively participate in furthering the good work of the program—no matter where they live. It's a direct tie to our industry and our business allows us to actively promote the program in our daily activities.
"I can't think of a better way to extend the outreach and community involvement of Nufarm employees than to help volunteers provide complimentary lawn and landscape services to the families of deployed military personnel and post-9/11 disabled veterans. GreenCare for Troops embodies Nufarm's core values and allows us to put them in action in real-life situations."
The contribution will be used to enhance and expand the national initiative created and managed by non-profit Project EverGreen. This will include increased outreach for volunteer recruitment, and communications to families, volunteers and the media, as well as adding the promotional and logistical resources required to grow the GreenCare for Troops database to serve more military families and veterans.
"Nufarm's incredible contribution to this program is going to make a significant difference to the lives of military families and veterans across the country," said Code. "This boost is just what the program needs to build upon its success, and ultimately, bring safe and healthy yards and landscapes to families in need of relief and peace in a green setting."
The GreenCare for Troops initiative, which is celebrating its 11th year in 2017, has seen more than 11,000 military families and disabled veterans, and more than 6,000 green industry professionals register to receive or provide these much-needed services since the program was launched in 2006.
In fact, in 2016, Project EverGreen's GreenCare and sister program SnowCare for Troops volunteers delivered lawn care and landscape services valued at $1 million to hundreds of military families and wounded/disabled veterans across the United States.
It's easy for both families and volunteers to register for the program as there are instructions for both. Families register for the services they need from a provided list, and volunteers register for services, how many families they can help and how far they are willing to travel. Families and volunteers are matched, and the family is responsible for calling its volunteer after they are matched. For privacy reasons, the name of the military family is not released to the contractors.
 For more information, please visit the Project EverGreen website at www.projectevergreen.org/greencare-and-snowcare-for-troops/.
UPDATE: Money for GreenCare for Troops
Music and laughter filled the air throughout a beautiful September evening in Delano, Minnesota, as hundreds of people attended the first Band Blitz fundraiser in support of GreenCare for Troops, a nationwide program providing free lawn and landscape services to eligible military families.
Throughout the evening, three local bands took the stage to entertain and share the message of GreenCare. More than $10,000 was raised through tickets sales, and food and beverage and raffle ticket sales for chances to win Toro power equipment to help grow the program to help more military families in need. A portion of the proceeds will also be donated to the Delano American Legion
State Rep. Joe McDonald read a proclamation from Minnesota Governor Mark Dayton announcing GreenCare for Troops/Delano American Legion Post 377 Day, while Congressman Tom Emmer warmly greeted the crowd.
Local GreenCare for Troops volunteers William Krammer of Lake Elmo, Minnesota, and Spencer Werness of Burnsville, Minnesota, were recognized by the crowd. Werness' son serves in the Army National Guard.
"Thriving lawns, trees and plants go beyond the aesthetics; they are an integral part of the social fabric of a community, and provide a safe yard for kids to play and a serene environment for military families to destress," said Code. "Managed yards are also instrumental in helping wounded veterans rehab and reconnect with their families."
The three bands playing during the event were: The Delano Six, Little Chicago and Delano River Band. Little Chicago is managed by Delano natives Den and Dan Gardner. Den Gardner was instrumental in the launch of GreenCare for Troops in 2006.
The fundraiser was supported by: The Toro Company, State Bank of Delano, GIE Media, Weed Man USA, Bridge House Coffee & Café, Jack Tackaberry, Calbrandt Inc., Lupine Brewing Company, Gardner & Gardner Communications, Bonde Bistro, Delano Herald Journal, Coborn's, HJ Development, Randy's Environmental Services and American Family Insurance.