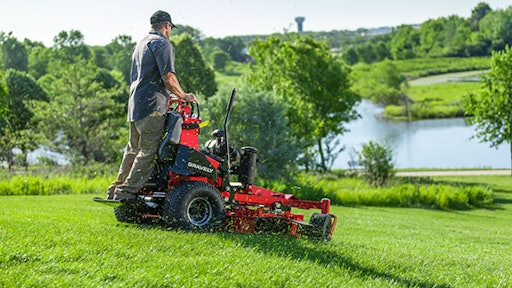 Gravely, AriensCo's commercial lawn mower brand, recently revealed the newest generation of Pro-Stance stand-on commercial lawn.
The ground-up redesign builds on the reliability and durability of previous Pro-Stance models, but changes the machine's geometry, improves existing features and expands its power and deck size options to perfect the machine's experience for commercial landscapers and lawn maintenance professionals.
The most notable design change of Pro-Stance repositions the operator three inches closer to the machine's center. This lowers the machine's center of gravity and improves Pro-Stance's handling, giving it superior hill-holding ability and confidence when operating in a variety of landscapes. With a weight redistribution around its single piece, welded tubular frame rail, the new Pro-Stance is lighter and shorter for easier trailering between job sites.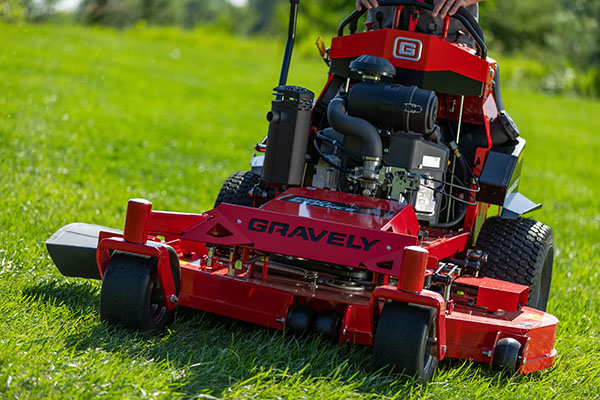 Operators will also notice a difference in the new Pro-Stance's controls. A redesigned tower and ergonomic control panel place engine and steering controls in comfortable positions for all-day use. With help from customer feedback, Gravely also reintroduced an attractive feature to the machine's design. Positioned just ahead of the steering control levers, an adjustable cruise bar limits and extends the drive speed range to the operator's preferences – helping new operators learn the controls of a stand-on mower and giving experienced users the option to slow Pro-Stance when maneuvering through challenging work environments like yards with tightly spaced obstacles.
While Pro-Stance's speed can be limited, a new powertrain configuration increases the mower's top speed over previous generations. Kawasaki-only power options and a pair of Hydro-Gear ZT-3100 (for smaller deck sizes) and ZT-3400 transaxles (for larger deck sizes) add a layer of reliability for professionals on jobsites. For the first time ever, Gravely is incorporating a Kawasaki FT EFI engine option to Pro-Stance models with 52 and 60-inch mower decks.
Aside from the powertrain, efficiency updates across the series are now available through a variety of optional tool holders. Trimmer and backpack blower holders allow operators to carry finishing tools of any brand to all corners of the landscapes without extra trips to and from their equipment trailers, saving them time at each property. A bucket holder accessory secures a five-gallon bucket to the side of the unit's tower so trash and other items can be picked up and stored while cutting – once again, saving contractors time at each location.
To align with the brand lineup, Pro-Stance features trademark Gravely systems seen on other commercial models. By removing the complexity in the deck lift design  and following the successes of the simplified deck lift designs across the range of Gravely commercial zero-turns, wear points are reduced, and reliability is enhanced.
Both hand-operated and foot-operated deck lift levers are kept but enhanced for a better interface. Pull the deck lift lever back to lock the 7-gauge steel deck at its highest position, use the same vertical-pin system of the Pro-Turn Z and ZX series to adjust cutting height and push a thumb-operated button at the top of the lever to easily unlock the deck and lower to its cutting height setting. The foot-operated deck lift lever moves to the right side of the mower, giving operators more leverage when feathering Pro-Stance's 32, 36, 48, 52 or 60-inch deck options over stumps, rocks and other obstructions.
Request More Information
Fill out the form below to request more information about
Gravely Unveils the Third Generation of Pro-Stance Stand-On Commercial Mowers