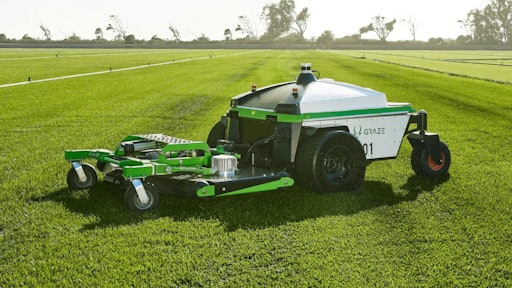 Graze Robotics
Graze Robotics has preorder launched its flagship commercial grade robotic lawn mower (G3).
"Today marks a pivotal moment for Graze as we introduce G3, one of the most advanced robotics systems on the market today," said Logan Fahey, CEO at Graze. "We are excited to offer our customers an opportunity to be among the first to experience the future of lawn maintenance. We believe that innovation, combined with sustainability, is the way forward, and our new mower is a testament to that."
Details of the product include:
With a wide 60-inch mowing deck and the capability of mowing 1.6 acres per hour, the mower promises timely job completions, ensuring businesses can handle more projects in less time.
The mower boasts an impressive 8-hour runtime with an extensive battery life, ensuring that operations run smoothly with fewer interruptions.
The mower is equipped with three metal mulching blades that operate at 3000 RPM, ensuring a consistent and even cut. Furthermore, advanced sensors allow for mowing on varying terrains, making it versatile for all kinds of landscapes.

Graze

prioritizes safety with a 360-degree optical suite and computer vision technology to detect and avoid obstacles. Additionally, the mower comes with an intuitive app for real-time monitoring, adjustments, and software updates.
Request More Information
Fill out the form below to request more information about
Graze Offering Preorder Launch of G3 Robotic Mower