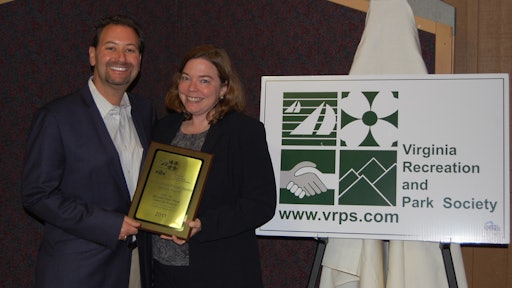 Virginia Recreation & Park Society (VRPS) presented the 2011 Distinguished Private Sector Service Award to Stihl Inc. for its partnership with Virginia Beach Parks & Recreation in the annual Professional Land Care Network (PLANET) Day of Service. The awards banquet was held on Sept. 10, 2012 during the VRPS annual conference.
For the past four years, Stihl employees, in conjunction with Virginia Beach Parks and Recreation and area landscape and tree care companies, have helped clean up and beautify a major city park. The 2011 partnership between Stihl and Virginia Beach Parks and Recreation provided an estimated $10,000 worth of renovations to Munden Point Park in Virginia Beach on May 7, 2011.
Included in the cleanup and beautification activities for this project were the removal of hazardous trees, new tree plantings, tree pruning, establishment of new plant beds, painting, fence repair, cleaning of flower beds, and replenishment of volleyball court sand and playground mulch. Stihl employees and their families donated their time to benefit the community by providing resources for the cleanup effort.
"We are honored to be recognized for the Munden Point Park project and for our relationship with Virginia Beach Parks and Recreation," said Anita Gambill of Stihl Inc. "We believe it's important to give back to our community and are proud of our employees' volunteerism and involvement in improving one of our city's great parks."
Over the past four years, Stihl employees have volunteered over 1,400 hours and saved the City of Virginia Beach over $60,000 through the Stihl PLANET Day of Service and with support from area tree care and landscape companies, including Bartlett Tree Experts, K&D Round's Landscape Services and Poor Folks Tree Service. The work done by Stihl and all the volunteers is appreciated by the Virginia Beach community and the park visitors/users, and is worthy of additional recognition.
"Stihl Incorporated is a fantastic Virginia Beach company, and their dedication to Virginia Beach Parks and Recreation and the entire community is appreciated," said Parks and Recreation director Michael Kalvort. "I invite all our citizens to visit Munden Point Park to see firsthand how they have made the park into an even more beautiful place to engage in recreation and make lasting memories."  
Stihl Inc. is the primary sponsor of the annual PLANET Day of Service project in the City of Virginia Beach. The 2011 event was organized to demonstrate the importance of maintaining our parks in the City of Virginia Beach and in recognition of the national PLANET Day of Service on Earth Day. Each year, PLANET members, partners, and state associations across the nation conduct volunteer lawn and landscape projects to give back to their local communities. Stihl is a sponsor of the national event and a key member of PLANET, an international association serving lawn care professionals, landscape management contractors, design/build/installation professionals, and interior plantscapers.