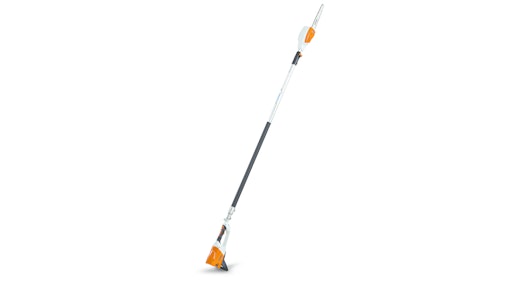 Nick Jiannas, vice president of sales and marketing for Stihl Inc., opened up the Stihl press conference at GIE+EXPO with news of the manufacturer receiving the 2014 Assembly Plant of the Year award from Assembly Magazine. This year also marks Stihl's 40th year in the U.S. where they sell through their network of nearly 8,500 independent dealers.
Product Manager Dan Pherson revealed the "new era of lithium ion tools" with the TSA 230 Cut Quick Concrete Saw weighing in at only 8.6 pounds. Also showcased was the HLA 85 extended-reach Hedgetrimmer at a weight of 12.6 pounds and an 11-hour runtime with the AR 900 battery. The HTA 85 12-foot pole pruner weighing in at 10 pounds was also introduced.
Show attendees were treated to a look at a working prototype for a Stihl Concept Chainsaw featuring new technology. The new saw technology features components that utilize materials such as carbon fiber, titanium and refined die cast magnesium. The result is significant weight reduction without compromising durability.
The Stihl Concept Chainsaw also utilizes fuel injection technology. It has the power of the MS 661 C-M with similar weight as the MS 362 C-M. The saw will not go into volume production, but knowledge gained during development and testing will be used to improve future Stihl products.