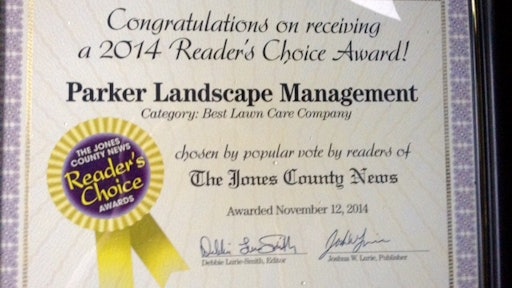 Parker Landscape Management (PLM) in Gray, GA, has been voted "Best Lawn Care Company" for 2015 by the readers of The Jones County News.
PLM has also won this honorable award in 2011, 2012, 2013, and 2014.
"We take great pride in the award and appreciate the opportunity to serve the citizens of Jones County and surrounding counties," says Greg Parker of PLM.
PLM is a full-service landscape and property management company that has served the Middle Georgia area since 1997.  PLM maintains both commercial and residential properties, and looks forward to the opportunity to discuss how its teams can assist property owners. To get more info please go to www.parkerlm.com , Email parkerlm1@gmail.com or call 478-951-4994 for more information.
PLM was #12 on Green Industry Pros magazine's 2014 Landscape Industry Hidden Gems list (download here).
Also located in Gray, GA, The Jones County News has been printed continuously since 1895. Along the way, the newspaper has been owned by several different families, never falling under corporate ownership. Currently, the newspaper is owned by Debbie Lurie-Smith, Editor, and Josh W. Lurie, Publisher, both of Gray.