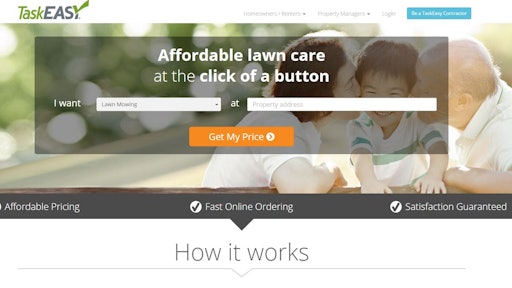 TaskEasy, a nationwide on-demand exterior maintenance provider, has announced an oversubscribed $12 million Series B financing led by Delta Electronics Capital with participation from new investors Moderne Ventures, MTD Products Inc. and others, as well as existing investors Grotech Ventures, Access Venture Partners and Kickstart Fund.
TaskEasy works closely with homeowners, property managers and real estate professionals who can easily upload entire property lists to their client portal, allowing for easy one-time or recurring scheduling of services. TaskEasy has performed over 400,000 tasks in more than 4,800 cities across all 50 states. The company has also established the largest network of lawn maintenance contractors with more than 5,000 screened and insured contractors. TaskEasy provides lawnmowing and snow removal services in areas that include over 95% of the U.S. population.
Read what some TaskEasy contractors had to say when the company was just getting going back in early 2015
This new round of funding comes after TaskEasy's latest milestone of delivering over $10 million in services. The funding will be used to expedite company growth and product development.
"It's always been our mission to provide world-class services directly to consumers and property portfolio managers while helping reliable contractors build sustainable businesses," says Ken Davis, CEO of TaskEasy. "With this funding we'll be able to broaden our current offering and enhance the customer experience, while making our contractors more efficient and more profitable."
Giving consumers more options. One improvement relates to how consumers order services. Currently, a consumer must have a lawnmowing service in place before they can order additional services like aeration and fertilization. "We're building it out so consumers can start with any yard service and order whatever they want at any time," Davis explains. "This includes adding several more services to our online pricing offering that lets us quote fair and accurate prices online without the hassle of onsite visits and bidding on jobs."
Additionally, TaskEasy is adding features to assist its growing roster of large-property clients. "We have several clients with 20,000- to 50,000-rental-home portfolios where we handle all of the exterior maintenance," Davis tells. "We're adding a number of features to further improve efficiency of managing thousands of homes on one account. This includes the ability to provide special photo sets and site survey data to our institutional clients in the property management and single-family home aggregator verticals, along with improved property history detail."
Making contractors more profitable. TaskEasy is also looking to make several improvements to help its contractor contractors become more efficient and profitable.
"Now that we are doing 40,000 to 50,000 lawn mows per month, we are at a scale where we offer increased property density to contractors in our network so they spend less time driving from house to house and more time earning money mowing," Davis says. "Second, through the smart routing technology we offer through our contractor smartphone app, we can further decrease drive times for contractors. Third, we are adding additional yard services for our customers which translates into more revenue per property for our contractors. Fourth, through our partnership with MTD Products, our contractors will get exclusive discounts on key equipment for their work, which is just one part of the Contractor Perks program we're about to roll out. Finally, as we add more services to our online pricing model, contractors waste less time bidding on jobs so they have more time for revenue-producing work."
Cub Cadet manufacturer gets involved. The investment participation from MTD Products, a leader in the lawn equipment industry whose brands include Cub Cadet, confirms the company's nationwide presence as a legitimate source for contractor success and profitability. "As the preferred equipment and service provider for TaskEasy, we believe this is a great way to leverage our nationwide network of product and service dealers to TaskEasy's impressive system of contractors," said Robert Moll, MTD's CEO.
The details of the program will be announced soon, Davis points out, but exclusive discounts will definitely be a part of it—discounts on MTD's brands of Cub Cadet, Troy-Bilt, Bolens, Yard Machines, Yard-Man, MTD Gold, Remington and others. "Everything from best-in-class zero-turn mowers to commercial-grade electric mowers to two-stage snowthrowers and more," Davis adds.
That said, TaskEasy contractors remain free to use whatever brands of equipment they choose.