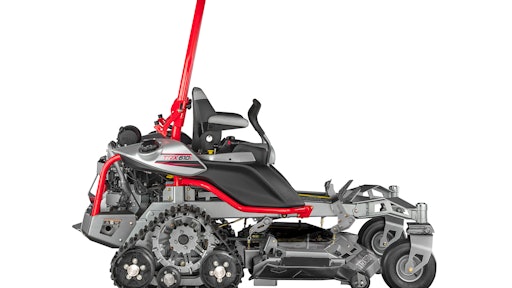 Power equipment dealers from across the country recently gathered at the Altoz headquarters in Greenbush, MN, for an exclusive "Dealer Meeting & 2017 New Model Unveiling." The daylong event provided dealers with a first look and hands-on demo of the new Altoz 2017 models, including a zero-turn mower in a completely new segment.
The day kicked off with Altoz owners, Dennis and Terri Brazier, sharing background on themselves, the story of how Altoz began plus their personal business philosophy. Dealers were also given a behind-the-scenes look at how Altoz mowers are built in the company's state-of-art manufacturing facility.
"It's extremely rewarding to meet our dealers face-to-face and receive such positive feedback on the models we're introducing this year. Based on their reactions, we're really excited to share the 2017 model line with a wider audience in the weeks ahead," Dennis said.
After the facility tour, Dennis, Karl Bjorkman (sales/marketing director) and Mark Reese (chief engineer) introduced the Altoz 2017 product line to the group. Within the 39-model lineup for 2017, several brand new models were unveiled to dealers including the XE HD, XP HD, Limited Edition XR SS and XE SS models as well as Altoz's TRX, the outdoor power equipment industry's first zero-turn mower with tracks.
"Altoz's 2017 lineup is excellent and the TRX is unbelievable. I put it in every position possible on the hill — it doesn't slide, it doesn't move. If you're cutting along highways, this is definitely the machine you want," commented Jonathan Sever from Wheels & Blades in Commerce Township, MI.
"The TRX is great — it's going to be a game changer. You'll never have to worry about tipping or sliding on hills, ditches or wet spots plus it was great mowing the flat terrain — really the best of both worlds," commented Kent Christen, Mimbach Fleet Supply in Sauk Rapids, MN.
Additional highlights from the day included advertising/marketing materials, website and advertising analytics presented by Janie Brandon, corporate communications manager. Kelsey Grinsteiner, accounting manager, shared Altoz's dealer portal, which provides 24/7 support for their businesses. Wayne Mooney, director of service & support, spoke about the importance of after-sales customer service, and shared online tools for providing timely and accurate information.
Altoz also presented its "Dealer Excellence Award" to Bartlett Coop Trailer and Bed Center based in Chetopa, KS. The award is presented to one Altoz dealer based on several criteria, including but not limited to a consistent track record of increased sales supported by excellent after-sale customer service.
New models will be available to view and demo at Altoz's outdoor demo booth (#6700-D) during the GIE+EXPO 2016 being held at the Kentucky Exposition Center in Louisville, Kentucky from October 19-21, 2016.
2017 New Models Displayed at GIE+EXPO
The following four new models compliment the 2017 Altoz 39-model lineup of commercial-grade mowers.
TRX --- Visit http://www.greenindustrypros.com/12267392 to read and inquire.
Limited Edition SS Models --- Features exclusive A-arm independent front suspension with adjustable coil springs over gas shocks. Operators can adjust the front suspension for varying conditions, creating the best possible ride. Custom paint scheme and graphics package match the high performance. 
XP HD --- The Altoz XP HD is designed and engineered to deliver reliability, comfort and a precise cut. It's a pro's machine, built heavy-duty for people that rely on their equipment and demand nothing but perfection.
XE HD --- Heavy on performance and big on value, the XE models are built to endure. They're rugged, reliable and a tremendous value, Altoz assures.