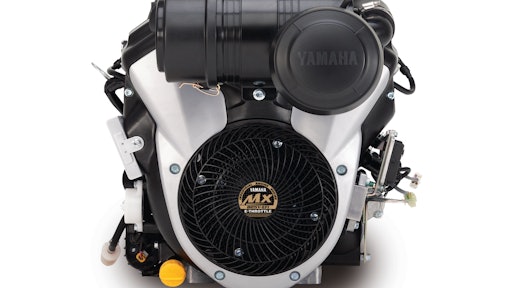 Yamaha Motor Corp - MX825V-EFI E-Throttle

Yamaha Motor Corp., USA's Outdoor Power Equipment division expanded the MX-V EFI (Electronic Fuel Injection) series engine lineup for the lawn and garden market with the all-new MX825V-EFI E-Throttle. The all-new engine, unveiled at the 2019 Green Industry and Equipment Expo (GIE+Expo) in Louisville, KY, gives customers more options to optimize performance for the ZTR (zero-turn-radius) lawn mowers.
Yamaha first unveiled the MX-V series at the 2016 Green Industry and Equipment Expo, with carbureted models joining the lineup the following year, demonstrating the company's commitment to bring its reputable quality, performance and reliability standards to the lawn and garden segment. This year, Yamaha further expands its options with the MX825V-EFI E-Throttle.
"For the last three years, our MX-V series engines have delivered industry-leading performance to the growing lawn and garden market," said Kevin Reed, Yamaha's Power Products division senior manager. "With the all-new MX825V-EFI E-Throttle, Yamaha continues to deliver advanced technology and modern components in state-of-the-art equipment and unmatched performance for the segment."
The MX825V EFI E-Throttle improves fuel efficiency and increases performance for more productivity. With E-Throttle technology, the vertical v-twin engine delivers more usable power, allowing the engine to provide more consistent blade speeds for a smooth, even cut in a wide variety of grass conditions and terrain. The intuitive electric throttle improves reliability and reduces maintenance while enhanced diagnostic capabilities make for easier troubleshooting.
The E-Throttle technology provides built-in engine protection for conditions that cause potential engine damage and a "safe mode" to allow the operator to move the mower under reduced power. The MX825V-EFI E-Throttle also comes equipped with standard features including the proven Delphi EFI System, industry standard air filtration, ball bearings supported PTO (Power Take-Off), and of course, Yamaha's Three-Year Limited Warranty.
The all-new MX825V-EFI E-Throttle engine will be available for OEM production late 2020.