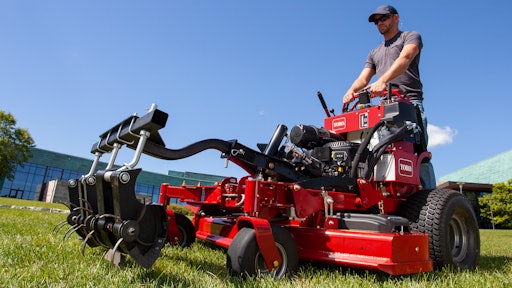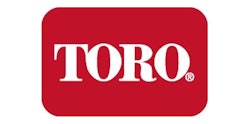 Plow, sweep, throw snow, aerate, mow – you name it. Whatever you need to do fast and efficiently, the new Toro GrandStand Stand-On Mower MULTI FORCE Attachments are ready to take it on, delivering more power, more versatility and more productivity for landscape and lawncare professionals who worry about the bottom line.
Nature is a Nasty Mother
Nature isn't partisan or polite. It doesn't know you from the next guy 3,000 miles away. It just does what it wants. All you can do is be prepared for whatever surprises Mother Nature throws your way. And sometimes, those surprises can be quite nasty.
That's where Toro GrandStand MULTI FORCE Attachments come in. You may be an army of one, but with these tools, your efforts will be, as the name implies, multiplied by 10.
With patented moveable front casters and a hydraulically controlled front A-frame, the GrandStand is ready to attach for any job, anywhere, any season. Whether you need to mow the perfect stripe, clear a blizzard's worth of snow, blow a mountain of leaves or bag debris, it's ready to go.
More New Tools for Year-Round Productivity
Landscape and lawncare professionals lean on the Toro GrandStand MULTI FORCE Stand-On Mower for three reasons: productivity, flexibility and profits. Now they have even more reason to celebrate with three more tools that will earn them a fast return on investment. In addition to the six MULTI FORCE tools already in the arsenal, Toro is introducing three more additions to the family:
Snow Blower – Clear both tight and large spaces with the new MULTI FORCE Snow Blower. At 48-inch wide, the snow blower is perfect for sidewalks but also big enough to make quick work of driveways and parking lots. It prevents the risk of jarring impacts through a unique urethane trip edge that softens any contact with obstacles like uneven pavement, cobblestones, manhole covers and more. The lift and chute rotation are controlled by low-flow hydraulics for easy adjustments, and the blower is powered by high-flow hydraulics to ensure there's plenty of power to throw piles of snow.
Leaf Plow – Clear large areas quickly with the new MULTI FORCE Leaf Plow. At 55-inches wide, it moves a ton of leaves in a short time. The high-strength galvanized steel construction not only ensures long-term durability, it provides the strength to push heavy, wet leaves. The stainless-steel tines won't damage grass or turf. When your task is complete, the plow folds up over the deck, so it fits easily on your trailer. 
BOSS 48-Inch Plow – The BOSS 48" wide plow clears standard sidewalks in one pass while providing you the versatility of getting snow out of tight spaces. Lifting the blade and adjusting the angle on the fly is easy thanks to the low-flow hydraulics.
Growing Family of Productivity Tools
In today's competitive landscape and lawncare profession, you need to be flexible and nimble. That's exactly what the Toro GrandStand MULTI FORCE stand-on mower delivers with its growing MULTI FORCE Attachments System.
MULTI FORCE tools allow landscape and lawncare professionals to customize their attachments to meet their local, on-the-ground needs. Use one or use them all. In addition to the three now tools for 2020, the system also includes:
EZ Vac Powered Bagger – a patent-pending side-mounted Soft Twin Bagger features a large, 10 cu. ft. capacity. The vertically mounted blower allows for excellent maneuverability in tight spaces with maximum visibility.
Pro Force Blower – The Pro Force Blower has a 360-degree nozzle rotation and utilizes the Multi Force 26.5 hp Kohler Command Pro EFI engine to deliver tremendous air power for fast removal of grass clippings, leaves, twigs, and other debris.
BOSS 60-inch Plow – The Boss Plow features a five-foot tough and rugged poly straight blade and a 30-degree lift height for superior snow stacking. It's ready to handle driveways, sidewalks, walkways, and small parking lots.
Power Broom – The 55-inch Power Broom is designed to tackle sidewalks and clear snow and debris down to the pavement. This fully hydraulic power broom delivers 225 revolutions per minute.
Tine Rake Dethatcher – Turn the GrandStand into the ultimate spring clean-up tool with the Multi Force front-mount tine rake dethatcher to remove thatch, embedded leaves and debris.
Hooker Aerator – Puncture up to six holes per square foot with Toro's 38-inch wide aerator. Tines pierce deep into the soil, hooking and lifting loose plugs of dirt that disperse nutrients over the surface.
Power Up Your Profits
With all of these options, it's easy to forget that the Toro GrandStand MULTI FORCE Stand-On Mower, available in 52-inch and 60-inch mowing decks, is first and foremost a powerful mower designed for high performance professional lawncare pros focused on optimizing their businesses year-round, from lawncare to snow clearing.
The GrandStand MULTI FORCE Stand-On Mower is powered by a 26.5 hp* Kohler Command PRO EFI 741 cc engine that delivers a top-end speed of 10 mph driving tread-hugging 20-in. rear tires, and producing an incredible blade speed of 18,500 fpm to slice and dice grass as you lay down the perfect pinstripes.
The mower features Toro's patented Turbo Force cutting deck system. Using high-strength, military-grade steel, the Turbo Force is a wholistic engineering system focused on manipulating the air flow under the deck to chop up grass finer and discharge to prevent grass from collecting under the deck and on the machine's spindles. An adjustable baffle allows the user to adjust a 7-gauge baffle based on grass conditions (wet, dry, long, etc.) to create the lift and suction needed to direct grass to a third spindle which finely shreds up clippings. A bullnose bumper creates more airflow while lifting stubborn grass and preventing clippings from being blown out the front of the machine. An extra tough rubber discharge chute clears obstacles while dispersing clippings.
With the GrandStand MULTI FORCE Stand-On mower, the platform features a self-adjusting suspension, a larger open area to move around, and sloped sides for cutting sloped surfaces. And, by designing this machine with a low center of gravity, stand-on mowers are appropriate for a variety of terrain. Operators can easily shift their weight as needed to enhance performance.
Stand by Our Reliability
The Toro GrandStand MULTI FORCE Stand-On Mower is backed by the industry's best warranty and customer service program – a 5-year, 1,200-hour warranty featuring a 2-year no-hour limit.