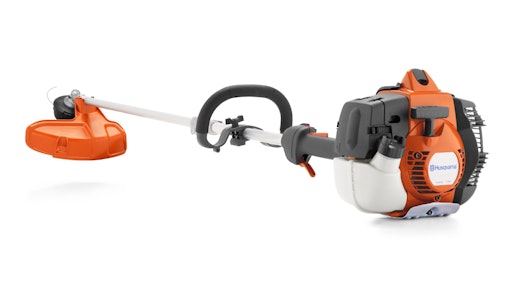 Husqvarna designed 535LS, 535LST and 535LK trimmers to combine power and durability with a light weight. The company says these trimmers are additionally highlighted by X-Torq technology to provide the power professionals need, but with up to 60 percent less exhaust emissions and up to 20 percent more fuel efficiency, while SmartStart technology start the machines with minimum effort to get to work faster. Additional features include:
535LS 35cc straight-shaft, steel-drive string trimmer
Built for tough commercial use with a heavy-duty bevel gear, grass bevel gear
Auto-return stop switch and air purge system, which removes air from the carburetor and fuel system for easy starting
535LST straight-shaft string trimmer
Intended for full-time brush and grass clearing .
Steel drive, straight shaft gear and high-torque gearbox.

 X-Torq engine delivers more power and less fuel consumption and exhaust emissions compared to a conventional engine
535LK combi-trimmer
Built for longer shifts with more demanding tasks on large areas.
10.8 lb machine offers a detachable shaft, 2.1 HP and the
Flexibility to be used with all existing attachments in the Husqvarna range.
Quick-connection system to allow operators to swap out attachments without losing valuable work time,
Adjustable loop handle for maximum comfort for multiple users.
Anti-vibration system.
Request More Information
Fill out the form below to request more information about
Husqvarna 535LS, 535LST and 535LK String Trimmers