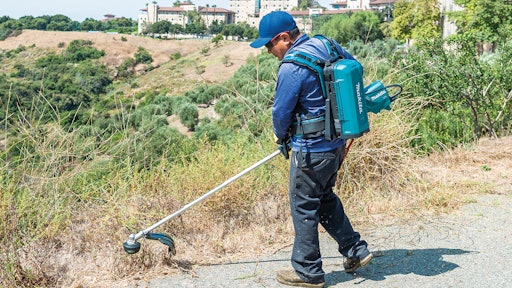 Makita U.S.A., Inc., recently debuted a new line of outdoor power equipment, the Connector Series. The debut piece of equipment is the 36v brushless string trimmer, connector cable, tool only (CRU03Z). With zero emissions, lower noise and considerably less maintenance than gas-powered string trimmers, this string trimmer is a welcome solution for landscapers.
Improved Balance, Less Weight, Longer Run Time
The Connector Series is a line of outdoor power equipment that utilizes an external battery connection, moving batteries from the unit to a battery backpack (sold separately). A cable connects the unit to the battery backpack. This shift in battery weight from the unit to the backpack provides improved balance and longer run time. Paired with the LXT and LXT X2 portable backpack power supply (PDC01, sold separately), a user will gain twice the run time for any LXT X2 product.
 "With the introduction of the Connector Series, Makita continues to grow its professional OPE portfolio," states Romique Talton, Makita outdoor power equipment senior marketing product manager. "The Connector Series offers users a solution with the ideal balance of power and runtime. The cordless CRU03Z has the power equivalent to a 30cc gas-powered string trimmer. When combined with the PDC01 backpack battery supply, users benefit with continuous run time due to its interchangeable battery capability. The CRU03Z is the first of the Makita connector-only products that will allow professional landscapers to continue to replace gas-powered equipment."
36V Brushless String Trimmer, Connector Cable, Tool Only (CRU03Z)
The first item in the series is the 36V brushless string trimmer. With a 17" cutting swath, the CRU03Z provides increased productivity. Its efficient Makita BL brushless motor delivers power equivalent to a 30cc gas string trimmer, longer run time, and more power and speed. The steel drive shaft provides less vibration and longer equipment life.
The 36V Brushless String Trimmer (CRU03) has a connector cable that links to a backpack power supply (PDC01) for improved balance and longer run time.
It has three speed options (4,000/4,600/6,000 RPM). The Automatic Torque Drive technology mode automatically shifts speeds to extend run time or add power. The reverse rotation function allows the user to quickly clear trimmer head of entangled grass and weeds.
The string trimmer features Makita's Extreme Protection Technology (XPT), a protective seal inside the tool and is engineered for improved operation in harsh conditions by channeling water and dust from key internal components. It also is IPX4 weather-resistant construction for durability and long life.
Request More Information
Fill out the form below to request more information about
Makita Introduces Connector Series with New String Trimmer