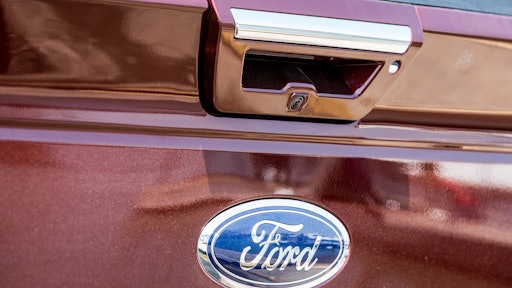 There have been significant developments in driver-assist technologies in recent years. For example, the 2016 Ford F-150 introduced Pro Trailer Backup Assist, a segment-first technology that lets the driver steer the trailer with a control knob while the truck turns its own wheels and limits vehicle speed. "Pro Trailer Backup Assist is a smart solution to save time and increase productivity for our customers," said Doug Scott, marketing manager, Ford Truck Group. "Instead of spending extra time backing up their trailer, they can get to work faster."
Many of the newest technologies rely on cameras. The 2016 F-150 is available with class-exclusive 360-Degree Camera with Split-View Display that uses four cameras—one in the grille, tailgate and under each of the sideview mirrors. The system enables the driver to see all sides of the truck by stitching the images together and displaying them on a center stack screen.
The all-new Ford Super Duty will be available later this year with as many as seven cameras. A 360-degree camera system uses four digital, high-definition cameras to give the driver a bird's eye view surrounding the truck. A forward-facing camera monitors driving lane positioning for the lane departure warning system. A center high-mounted stop lamp camera provides visibility into the cargo box and behind the truck, making it easier to hook up gooseneck/fifth-wheel trailers. And a first-ever, factory-available trailer camera can be attached to a trailer to improve visibility behind when backing up.
A new rearview camera on the 2016 Transit cutaway and chassis cab will provide customers with the option to display the area behind the vehicle on the rearview mirror.
Aside from camera systems, Ford offers other new driver assistance technologies.
Trailer hitch assist. Standard on the 2016 Ford Transit, F-150 and Super Duty, trailer hitch assist automatically engages when the vehicle is shifted into reverse and displays a graphical overlay on the screen that helps guide drivers to line up a hitch with a trailer.
Adaptive steering for the Ford F-Series Super Duty reduces the amount of steering input needed to change direction at low speed, while reducing sensitivity to steering input at higher speeds. This helps make towing the heaviest of loads easier and brings greater ease to navigating jobsites and parking lots, with or without a trailer.
Blind Spot Information System. On the Super Duty, BLIS with trailer tow has been optimized to include the length of the trailer. BLIS uses radar sensors in the trucks' tail lamps to monitor areas that may not be visible to the driver.
Lane-keeping automatically detects the left- or right-hand road lane markings using a camera mounted between the windshield and interior rearview mirror. A vibration in the steering wheel alerts the driver when drifting outside of the intended driving lane. The system can also provide steering torque to help guide the vehicle back into the lane if needed.
Advanced lighting. Ford has added advanced light-emitting diode technology to shed light all around the Ford F-Series F-150 and Super Duty trucks. In addition to quad-beam LED headlamps and tail lamps, F-Series trucks have LED side-mirror spotlights that can be used to light up a jobsite, along with LED lighting in the cargo box.
Remote tailgate lock and release. The F-150's and Super Duty's tailgate can be locked/unlocked and opened with the key fob, increasing convenience and security.
The F-150 and Super Duty feature BoxLink, a Ford-patented combination of metal brackets and custom cleats that can be used to secure a variety of accessories in the cargo box—including available integrated loading ramps that make it easier to quickly move riding mowers and other equipment off the truck and onto the jobsite.
Total cost of ownership
New technologies aside, it's important to look at a truck's capability. Taking up to 700 pounds out of the weight of the truck enables F-150 to provide more payload and towing capacity. Ford says the F-150's best-in-class towing is rated to pull up to 12,200 pounds. Additionally, the F-150's best-in-class payload is rated to haul up to 3,270 pounds—more than 1,000 pounds more than its closest competitor.
It's also important to look at total cost of ownership. Kelley Blue Book's website compiles 5-Year Cost to Own information that takes into consideration depreciation, expected fuel costs, finance and insurance fees, maintenance and repair costs, and state fees. KBB.com declared that the 2016 Ford F-150 has the lowest projected ownership costs in the full-size pickup truck division.
Fuel economy is key. Ford says its F-150 already offers best-in-class towing, payload and EPA-estimated gas mileage. Now the 2016 F-150 with 2.7-liter EcoBoost engine comes standard with Auto Start-Stop technology which shuts off the engine when the vehicle is at a stop except when towing or in four-wheel-drive mode. When the brake is released, the engine restarts quickly. Ford recently announced that it will expand this fuel-saving technology to be standard across its 3.5-liter EcoBoost F-150 trucks as well in 2017.
"EcoBoost already powers F-150's best-in-class towing," Scott said. "Now, with every EcoBoost-equipped F-150 mildly electrified with standard Auto Start-Stop technology, customers' fuel efficiency is expected to improve as well."