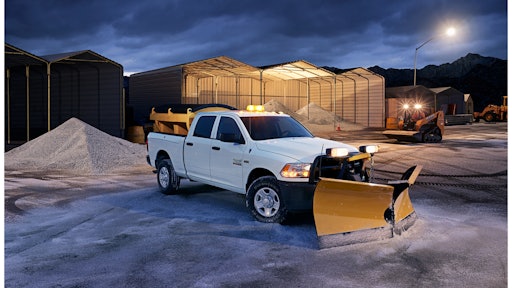 It's about that time when your truck fleet is asked to begin pushing snow and hauling salt spreaders. David Sowers, head of Ram Trucks marketing, offers some insights on what to look for in a good all-season truck.
"The typical landscape/snow contractor often uses our 2500 pickup truck," Sowers says. "You get good capability and payload. Single rear-wheel trucks are also narrower, which makes them great for smaller commercial lots and residential driveways. That said, we do see some contractors in larger applications who go into our chassis cab models." It all depends on the scope of work that needs to be done.
USER COMFORT. Regardless of truck size, creature comfort is a big issue for snow contractors working long shifts in punishing conditions. "We have heated seats and heated steering wheels," Sowers points out. "We have infotainment which can keep contractors informed about traffic. Contractors can get a WiFi hotspot in the cab. A customizable instrument cluster allows drivers to bring up different gauges to monitor truck performance, such as transmission temperature—which is important to keep an eye on when plowing. Finally, our gasoline engines handle duty cycles very well, so the cab warms up pretty quickly."
GAS IS GREAT. Speaking of gasoline engines, Sowers says most snow contractors prefer them, especially in New England. "Contractors aren't logging a lot of miles and are not hauling big trailers, so some of the benefits of diesel go away," Sowers explains. "In today's world, gas engines provide plenty of horsepower and torque for these types of applications."
Additionally, gas engines weigh less. Axle weight rating and plow weight are two things to keep in mind. You do not want to overload the front suspension. So a lighter engine can be a big plus—if it doesn't sacrifice on performance. A 6.4-liter Hemi gas engine powers Ram's pickup trucks and chassis cabs. Sowers says the engine features best-in-class horsepower and torque, and allows for 10,000-mile oil change intervals.
"In our pickup truck applications, we also have fuel saver technology," Sowers points out. "This deactivates cylinders so the truck can run in four-cylinder mode when not in need of all the power. This results in greater fuel economy."
SNOW SEASON CUSTOMIZATION. Ram offers a couple of products to further enhance snow season capability, primarily on its 2500 regular cab and crew cab pickup models. Ram's Snowplow Prep Group includes an upgraded alternator to help run the extra lights and electrical, along with a transfer case skid plate. The Snow Chief Package builds upon the Prep Group, also including an anti-spin rear differential, auxiliary switches on the instrument panel to tie into the lights, clearance lamps on the roof, and a heavy-duty off-road tire package.
Ram dealers in the Snowbelt understand how to order and equip these trucks for their snow contractor customers. "Most dealers are ordering all of their inventory with the Snowplow Prep Group," Sowers says. "They then order a portion of their inventory with the Snow Chief Package."
Rest assured, snow removal contractors can feel comfortable that their Ram dealers have them covered. And when the snow and ice melts and it's time to spin back into landscaping, Sowers says the contractor can rest assured that his truck(s) will have the capability to tackle all of his hauling and towing needs—from landscaping and hardscaping to mowing and tree care.
Towing capacity is 16,320 pounds on the 2500 pickup, and 19,000 pounds on the chassis cab. Payload is 3,990 pounds on the single rear-wheel pickup, 7,390 pounds on the dually pickup, and 12,000 pounds on the chassis cab.