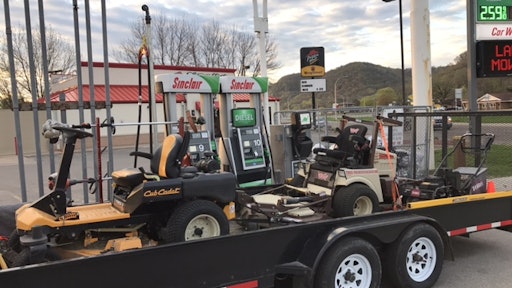 Joe Cooper owns Reliable Lawn Care in Winona, MN. In business since 1995, he mows and maintains properties for four HOA's, 20 businesses, and approximately 35 residential accounts. "It keeps me busy," Cooper says, whose trailer makes room for a Grasshopper diesel mower, a Cub Cadet zero turn mower, and a Toro 30-inch walk behind.
The workhorse is the Grasshopper. He has two powered by 25-hp Kohler diesel engines. One is four years old and the other was new last year. Both are models 725D with 52-inch outfront decks.
"I've used (demonstrated) both gas-and propane-powered mowers, but the diesel works best for me," he says. "It has the power to cut through the tall, lush grass in the spring, and it is economical to run. Currently off-road diesel fuel or red fuel is about the same price as gasoline, but I'm getting 35 percent more mileage out of a tank. What that means for me is I can mow from 6:00 am to 6:00 pm and never have to refill the eight-gallon fuel tank."
Cooper indicated his Grasshoppers are great for mowing his big properties and the outfront deck can easily mow under a fence or beneath the blue spruces that dot many of his lawns. The electric deck lift, which can raise the deck both vertically and horizontally, also makes changing blades a breeze.
The two other mowers on his trailer each have their application, he pointed out. "The Cub Cadet has a 48-inch deck and even though it is zero turn mower, it has a steering wheel. I prefer to use it on steeper terrain. The walk mower is a Toro Turfmaster and is ideal for smaller properties."
In addition to mowing, Cooper does some bush trimming when time allows. He also plows snow with an 8' Western Plow, but only for his mowing customers.
"I don't use my Grasshoppers in the winter," Cooper says. "But I have run them then and they start easily in the cold. Yes, diesel mowers are more expensive than gas-powered ones, but I tell people they last longer, too, allowing users to get even more return on their original investment over time.
Since starting mowing lawns more than 30 years ago, this owner/operator said he has never advertised, relying primarily on word-of-mouth instead. At 61 years old, he's contemplating hiring some help this summer, but only if he can't get his work done in what often turns into a 12-hour day.