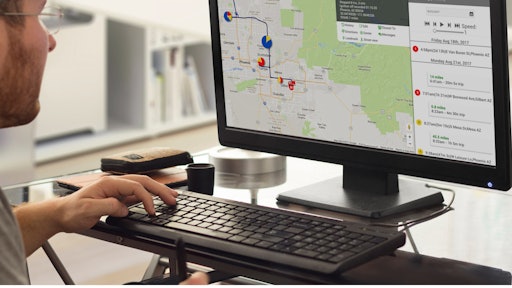 Everyone knows the Global Positioning System—more frequently referred to as GPS—is a useful tool for navigating unfamiliar territory, but for forward-thinking landscape contractors, it could be so much more. The key is to reap the full data capabilities GPS and telematics systems can provide—beyond just turn-by-turn directions.
At the most basic level, GPS technology permits landscape contractors to pinpoint and track the location of vehicles in their GPS-enabled fleets on a virtual map, while telematics allow the remote monitoring of certain conditions onboard the vehicles. What the technology is, though, isn't nearly as exciting as what it can do.
Chris Ransom, director of solutions engineering at Verizon Connect, says, "Core functions and capabilities include near real-time and historical location, stop/job tracking, vehicle health information, vehicle maintenance capabilities, utilization reporting, location, fuel usage, trend analysis through dashboards and scorecards, as well as improvements in work and work management, including improved driving, job and route optimization, dispatching of jobs, custom forms and more."
The Ultimate Management Tool for Landscape Contractors
GPS can identify the quickest path to a destination, then accurately and efficiently route drivers there with the entry of an address, simplifying the dispatch of landscaping vehicles to job sites. George Survant, senior director of fleet relations at the Association for the Work Truck Industry (NTEA), adds, "The integration of real-time traffic conditions can help drivers spend less wasted time waiting for road obstructions (accidents, road repairs and traffic congestion, for example) to clear," too.
GPS is an effective tool for not only managing vehicles, but also employees and contracts, according to Andy Walters, CEO and founder of Quartix, a vehicle tracking systems provider. Keeping in mind that there are many different levels of system sophistication, he offers some examples of features contemporary GPS and telematics devices can provide that landscape contractors could use to better manage vehicles, employees and contracts:
Reporting on irresponsible employee vehicle use—such as speeding and hard braking—so drivers can learn from their mistakes and improve their driving behavior, which can lead to better fuel economy, less vehicle maintenance and less chance for accidents.
The tracking of vehicle maintenance schedules so you can service your vehicles proactively, decreasing downtime.
Daily, weekly and monthly timesheets for each employee, which can help control overtime payments.
Capacity utilization reports that can help you get more out of your workforce by better allocating shifts to meet the demand from your customers most cost-effectively.
Alerts to notify you of late job-site arrivals or early departures.
Reporting on how much time is spent at each customer site, which can facilitate better job costing.
Proof of attendance of your workforce, so you can demonstrate your compliance with a contract to clients.
The power to locate the nearest employee with the appropriate skills and equipment to deal with requests from clients in real time.
The easy viewing and sharing of information.
Alerts when machinery is in use at unauthorized locations or unauthorized times to help prevent employees from taking on private jobs and using company equipment to carry them out.
Walters estimates that, with all of the time and costs that a GPS or telematics system can save, landscape contractors could "gain one extra billable job each week (as much as $400 per month per employee), reduce overtime and weekend payments by a couple of hours per week (as much as $240 per month), and decrease fuel bills by improving driving behaviors and cutting out unauthorized usage (as much as $40 for 20 gallons per month per vehicle). If you do the math, it's easy to see how a monthly investment can save quite a bit of cash and the telematics tool easily pays for itself."
Survant breaks the potential savings down differently—into cost avoidance through safety improvements that "can help avoid expensive repairs and liability exposure," direct savings through "reduced operating expenses by improving effective route management, productivity by enhanced dispatching and better engine idle management" and future revenue through improved customer service by "being able to advise customers more accurately about arrival times and helping ensure the right equipment shows up at the work site in a timely manner."
Jenny Shiner, the marketing communications manager at GPS Insight, says the first question most landscape contractors ask about telematics isn't about time and cost savings, though. It's about the price. She says, "The reality is pricing differs based on a few factors, such as the functionality a business requires, what type of vehicles and assets are going to be tracked, if units are going to be purchased or rented, update frequencies and more."
But she insists, "Telematics can be one of the best dollar-for-dollar returns on investment for landscaping businesses when the data is fully utilized. Depending on the fleet size, landscape contractors can experience anywhere from thousands to millions of dollars returned. Most businesses would be shocked how often vehicles are left idling during or in between jobs, for instance. By sending drivers an alert when the vehicle exceeds an acceptable threshold of idling, substantial fuel savings can rapidly begin to occur."
Reporting Key to Business Profitability
As with all business tools, you get the most bang for your buck when you effectively engage with all of the features it has to offer. Otherwise, you're basically leaving already-spent money on the table. In the case of GPS and telematics systems, the reporting they can offer could mean the difference between a profitable and unprofitable business.
"Landscape contracting is still very labor intensive, despite the sophisticated machinery available these days," confirms Walters. "So it is essential that a GPS system helps you manage your workforce to get maximum productivity. This means that the most important features of the system are the software reporting and its ease of use: All GPS tracking systems should be able to tell you where your vehicles are and what they have done, but with the right system, the reports provide you with information that is directly relevant to your business—and with the minimum time overhead on your part."
Shiner agrees that reporting is the biggest trend in telematics technology. "Customers are calling for more driver reports and functionality to better understand their habits and performance," she says. "Many telematics providers are enhancing their driver-centric reporting capabilities and partnering with intelligent driver safety systems that include cameras to combat distracted driving. Using this technology, along with driver behavior data through telematics systems, helps landscape contractors ensure the best safety protocols are in place across their fleet."
Walters believes that reporting is going to go beyond just driver performance and safety, but even further into the components of the vehicles themselves. "Connecting a power take-off (PTO) input to the tracking system can combine with operational reporting to show efficiency at the site—how long a piece of machinery is actually in use at a site as a percentage of the time spent there and as a percentage of the day," he suggests.
Everyone knows how downtime can bring productivity to an unexpected halt and the dominoes that come crashing down as a result. Promoting uptime can have the opposite effect. Ransom says telematics devices not only help identify vehicle health issues, but also prevent them by "notifying fleet managers with service reminders, helping improve uptime and keep vehicles in working condition longer, which enables fleet managers to know the locations of workers and vehicles, which leads to an increase in work completed and a more efficient workday for workers in the field."
How to Select the Most Fitting System
There is a wide variation of features to choose from in GPS and telematics systems, so it is best you know what you're trying to achieve before you make your purchasing decision, while taking into account the size of your fleet. Shiner advises, "When considering which telematics features are fundamental to running your landscape business, remember the most widely beneficial functions of a telematics solution come down to how they can help landscape contractors solve their pertinent challenges.
"Knowing why the technology is a necessary addition to the business, say improving safety, helps landscape contractors dive into a platform and find the right features to achieve their goal. Unsafe driving is a burden landscape businesses face whether they have one vehicle or 500, so using driver behavior features to monitor speeding, harsh braking and cornering, and even have a view inside the cab of the truck, allows them to proactively and automatically stop the behavior while it's happening and use the data to coach safer driving habits after the fact."
You have to also determine whether the GPS or telematics system fits your employees. Acquiring employee buy-in is critical to getting the most out of your investment. Fortunately, Walters says there are several ways landscape contractors can motivate employees to embrace GPS or telematics systems:
By introducing incentives for improved performance (rewards for good driving style, working efficiency, jobs completed on time, etc.) based on the information from the system.
By demonstrating the system helps protect employees against false claims about their driving, activities, punctuality and so on.
By outlining the company's plans and explaining the system is intended to ensure everyone works to the same standards of efficiency—protecting the company and jobs.
You can maximize the full potential of a GPS or telematics system by using it to manage your entire business (vehicles, employees and contracts), taking advantage of all of its reporting capabilities, and purchasing the right system for your business and employees.
This article was originally published in 2018.