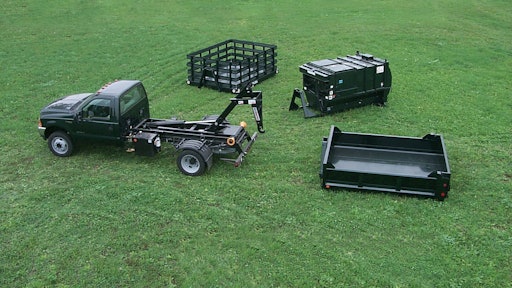 Stellar
At first glance, a hook lift is easy to understand. The name says it all. A hook lift assembly is used to lift containers and other bodies onto and off of a truck for easy, secure transport. Yet there's so much more that makes hook lifts the most versatile equipment you can own, separates them from cable hoists and makes them the high-productivity choice in industries such as landscaping, construction and more.
Whether you've been using a dump truck or a roll-off cable hoist, or if you're simply looking for a way to get more productivity and efficiency out of one truck, check out these three things to know about hook lift hoists.
1. Unmatched versatility
When a business adds a hook lift hoist, productivity rises. In a single week, a landscape company can benefit from a hook lift in several ways. It enables easy transportation of equipment like loaders, mowers and excavators between jobsites, making loading and unloading onto flatbeds a breeze. Additionally, the hoist facilitates the delivery and removal of bulk materials such as soil, mulch and rocks, streamlining the process and reducing manual labor. The hoist is also useful for waste disposal of logs, branches or hardscapes, allowing a company to load and transport waste containers or dumpsters efficiently. What's more, it provides a convenient solution for storing and organizing landscaping equipment and supplies. By swapping different bodies, a truck equipped with a hook lift can serve multiple purposes, enhancing versatility and saving costs.
The list goes on and on for a wide range of industries. In fact, more than 100 different uses for a hook lift have already been established, and the list gets longer every day. Need to haul a concrete mixer? Use a hook lift. Want to transport a skid steer? Use a hook lift. With its incredible usefulness, a hook lift offers an outstanding return on investment because you can do more with one truck.
2. It's the "yes you can" truck
You probably know someone who always seems to figure out a way to get something done. A hook lift is the truck version of that person. In addition to the wide range of containers, bodies, platforms and more that give hook lifts their versatility, they're also the truck of choice when a new project comes along.
For instance, if there's a load that needs hauled, and you don't already have a body for it, you can mount it on a skid or sled, a skeleton understructure to any truck body, and pull it right onto your hook lift. If you've been hiring someone to haul away debris containers from a jobsite, a hook lift lets you handle it yourself without investing in a specialized truck. Need to run the chipper? Grab the chipper body and go. Have a job come up where you need a mixer for curb work? Just rent a body for a morning and use your hook lift. The only limit is your imagination.
In fact, hook lifts are popular with rental companies for that very reason. They can keep several bodies on the lot while just buying one truck chassis, so when a customer calls, asking if they can do something, the rental company can say, "yes, you can," put on the proper body or platform and serve the customer to perfection—keeping chassis utilization very high. Or the rental company can use the hook lift to deliver equipment or haul containers packed with materials for events. Again, the list goes on and on.
3. Higher productivity, lower expenses
Because hook lifts are so versatile, one truck can do the work of three. That means the utilization of your your purchased and insured truck remains very high. You only have to pay for one driver, too, which not only saves money but also saves headaches that can come with today's shortage of CDL drivers.
Uptime is essential, and hook lifts provide easier maintenance schedules. If you have more than one hook lift, each truck is capable of doing the job of any truck that may be in the shop. The fleet can be entirely universal! That makes it a breeze to schedule routine maintenance as well as handle any emergencies.
The savings are big in the long term, too. Rather than having the major expense of completely replacing an aging truck, you can replace the chassis and still use the bodies you've already paid for. You'll have a lower capital expense, and you can get right back to work without time lost for setting up a new truck.
Getting started is easy
The extreme versatility combined with the long service life ensures that a hook lift will be a great addition to your business. Start by getting your hook lift and the body type needed for what you'll be hauling right away. Then simply add containers and other body types whenever more needs arise. You'll just have one truck, but it will feel like a fleet.