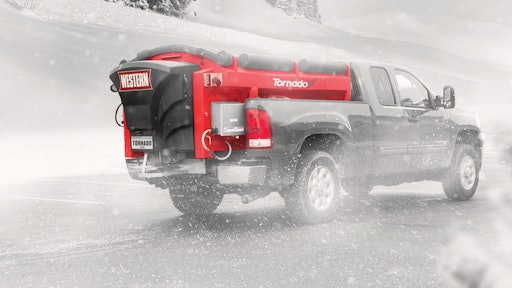 On the surface, material spreading doesn't seem all that complex. Buy a spreader, fill it with deicing material and go to work. Simple, right? Yes — provided you have the right equipment for the job. But too often contractors fail to consider the big picture when selecting a spreader, leading to anything from minor headaches to major issues.
"Right, wrong or indifferent, we try to cater to every single customer," said Bob Iverson, Snow Ex product manager.
With spreaders it's stainless steel or poly, gas or electric and chain or auger delivery system. "Those are the choices that are out there, and you can mix and match all of those different variables and it gets really confusing," he said.
Selecting a material spreader is hardly rocket science. But it does require one to examine a number of factors to correctly determine which model will enable a winter maintenance business to be efficient and profitable, both initially and for the long term.
Material World
Many contractors go about the spreader selection process by considering capacity, and sometimes they never get around to thinking about anything else. Obviously how much material a spreader can hold is a major piece of the puzzle, but it's a consideration that must wait its turn in the selection hierarchy.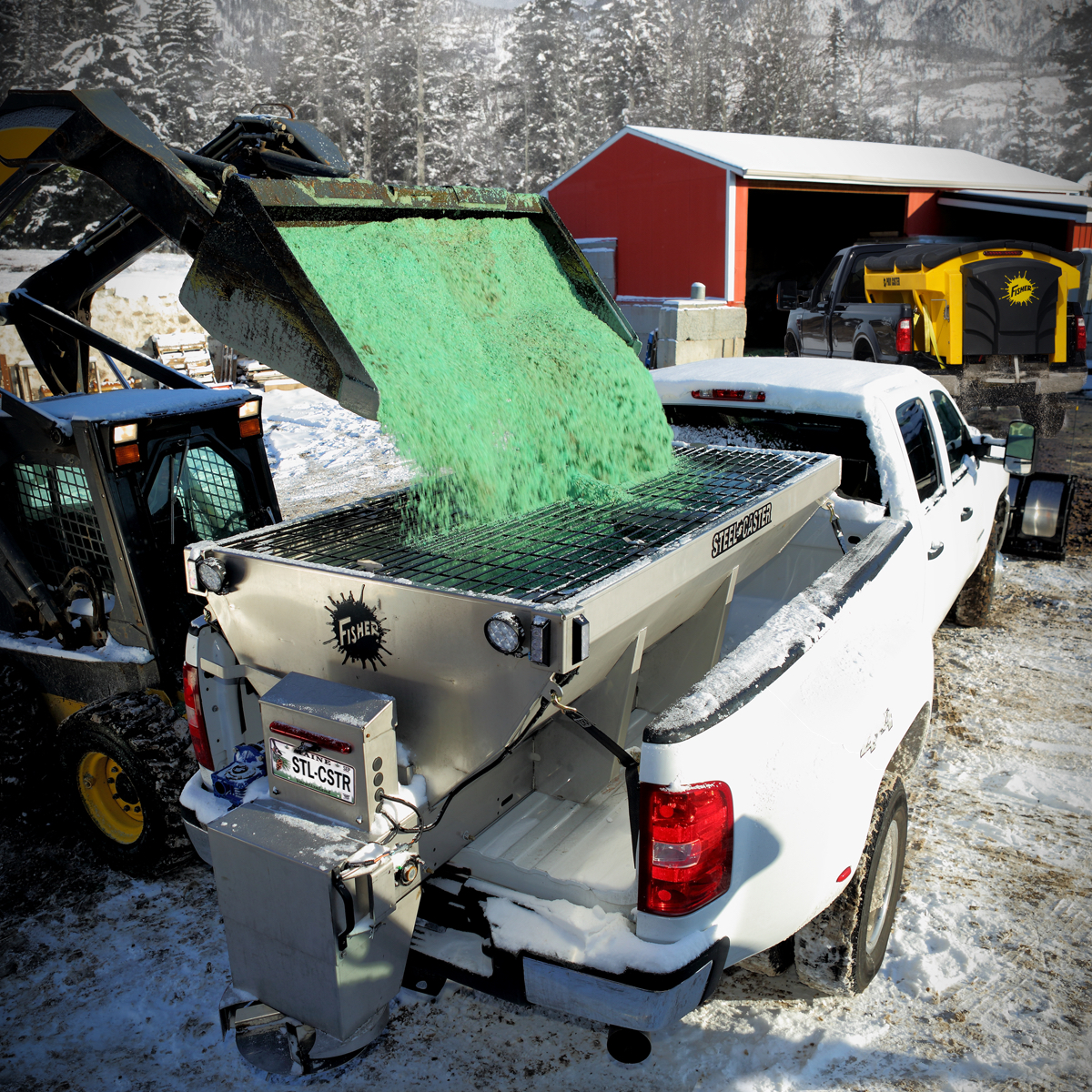 Capacity is often the first thing on most contractors' minds when selecting a spreader. It is of equal importance to giver consideration to the type of material being spread.First and foremost, the contractor should determine what kind of material they will be spreading.
"In an urban environment, the name of the game is efficiency," Iverson said. "Everybody's using salt, right? It's about safety and lawsuits and those types of things. So salt is the game. And when you're talking large contractors, the game is even bigger."
Bulk salt is generally regarded as the industry mainstay because of its ability to melt ice quickly and effectively. Bagged salt is the primary choice for smaller spreaders for the same reason.
Some geographic areas of the country prefer sand because of the traction it provides on a driving surface, although it doesn't melt ice. "If you live out in the country where there's fewer population, or if you are out west in the mountains, the roadways are too much and there's not enough money to maintain all that stuff. They don't want it crystal clear, it's about getting hard pack and maintaining it, it's about traction," Iverson said.
Many contractors utilize a salt/sand mix to get some of the benefits of both materials at once. Certain customers or locations may want their winter maintenance contractor to use specialty deicing materials for various reasons. Magnesium chloride is spread in parking garages because it doesn't corrode the rebar in the structure's precast concrete panels. Calcium chloride pellets are usually called upon for sensitive concrete surfaces, around doorways or on brick pavers.
"When you know the material that you want to spread, that helps you determine basically what kind of spreader you want," Iverson noted.
Spreaders are available in just about every capacity imaginable, but material matters first.
"When you're talking about salt and government regulations, people are starting to really pay attention to how much salt they put down and trying to measure it or calibrate their machine," Iverson said. "When you have an auger, it's a lot easier to do that.
Read Next: What Snow Removal Equipment Should You Add to Your Landscape Business?
"If you have a conveyor system, those things put out slugs of material and it plops it on the spinner and throws it out," he said, noting if you are looking to build a dirt road, a conveyor system is what you want.
A seemingly correctly sized unit can be extremely wasteful if it allows too much of the wrong material to flow. It could also be worthless if it's unable to put out any material at all. Many spreaders can handle a variety of materials, but even the most versatile spreader won't effectively apply every type of available material.
"It's  totally different depending on the business model, such as if you're a contractor trying to salt a parking lot and put down just enough to make sure that it melts off the accumulation versus providing traction in those more rural areas," Iverson said. "Material, again, is the first thing that you really must consider."
Contractors must understand up front that if they have a wide array of clients, it's possible that deicing material requirements may dictate they purchase several different spreaders to service them. The simpler and more cost-effective alternative, of course, is lining up similar accounts that utilize the same type of spreading material.
Sizing Up Capacity
It's certainly wise for a contractor to bunch his clients closely together instead of chasing all over town to provide service. It's also helpful for those clients to be of similar size. This can't always be perfectly accomplished, but giving due consideration to both factors should allow a winter maintenance company to operate more efficiently.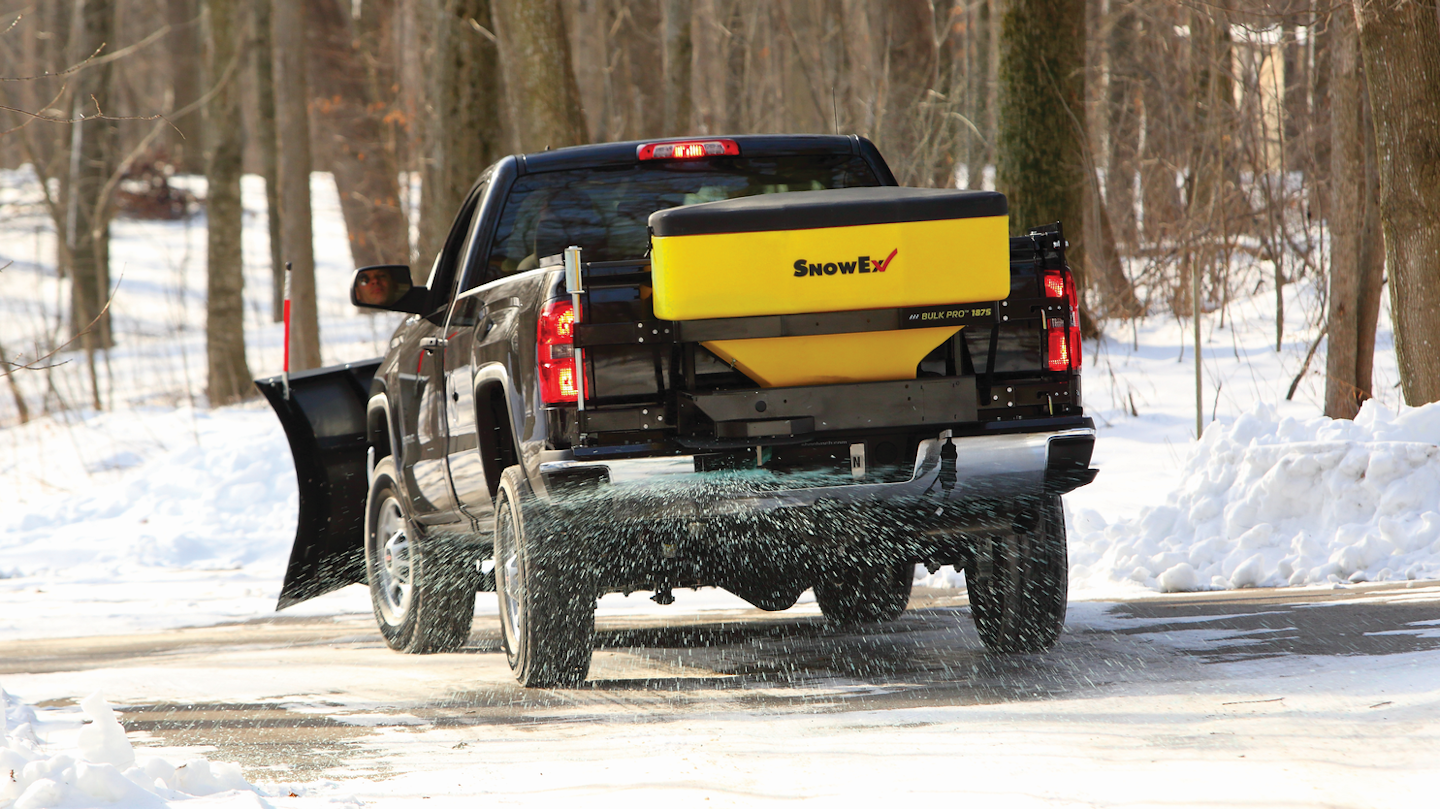 For a new contractor simply spreading salt in a residential capacity on a driveway or sidewalk application, a smaller tailgate spreader such as this SnowEx model would likely be sufficient.For a new contractor simply spreading salt in a residential capacity on a driveway or sidewalk application, a smaller tailgate spreader would likely be sufficient.
For larger jobs, such as big parking lots, a v-box style spreader will be more effective. Many contractors try to save money by purchasing too small of a spreader, but they can quickly find themselves incurring far more in unnecessary costs. The biggest problem with inadequate capacity is the need to constantly stop and refill the spreader. This equates to less time on the job, reduced productivity and potentially a group of unhappy clients. This is also another situation where more fuel will be consumed in the process of driving around to get more material.
"You can see the natural progression," Iverson said. "You're going to pay more money for more capacity; that's all there is to it. So, as your business grows, your equipment grows with it."  
The gamut of small or mid-size spreaders favored by contractors generally runs from 75-pound capacity push spreaders all the way to 4-cubic-yard truck-mounted units that hold nearly 8,000 pounds of material. Larger models ranging from 4- to 16-cubic yards that fit larger dump bodies or flatbeds are also available. In between, styles range from smaller tailgate units that connect to a vehicle's 2-inch receiver mount or three-point hitch mount, to an assortment of v-box style models that rest inside a truck bed.
In addition to determining what equipment is appropriate for the size of each job, a contractor should consider the total amount of material needed  over the entire customer route. If the total is just 1 cubic yard, for example, it wouldn't make sense to buy a spreader with a capacity of 2 cubic yards. Conversely, if the route requires 8 cubic yards, a spreader that holds just 1 cubic yard isn't big enough.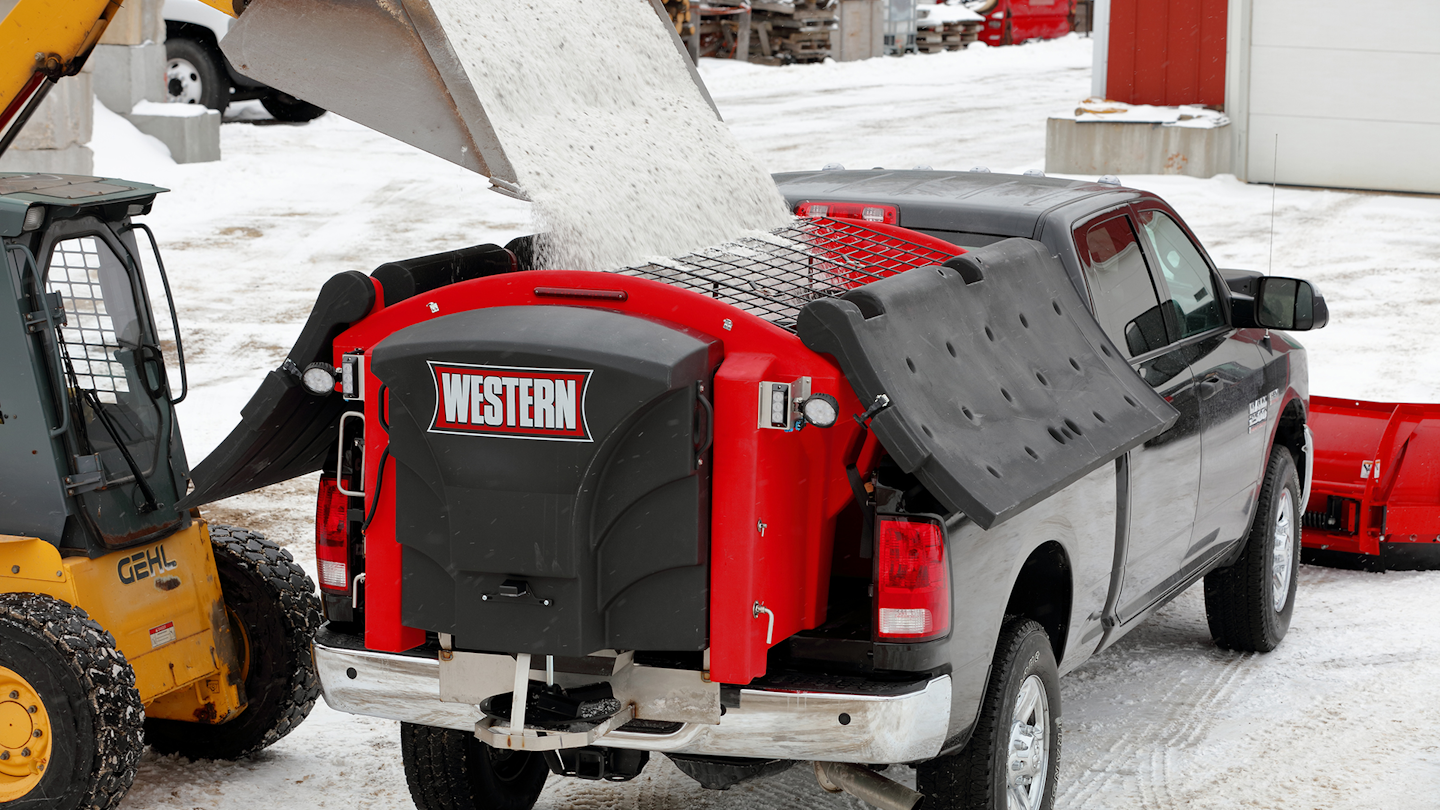 The gamut of spreader sizes runs from 75-pound capacity push spreaders all the way to 4-cubic-yard truck-mounted units that hold nearly 8,000 pounds of material. Contractors must determine the proper size that fits the route.
Both the individual jobs and route as a whole need to be considered with the other in mind to strike the right balance of operating efficiency.
"It's just sizing it right for your operation," Iverson says . "It becomes about logistics. I don't want to have to travel back and forth if my route takes me 20, 30 miles away from my salt pile and then I run out and I still have to go even further. They try to size a hopper that will get them through the route before they run out."
Some contractors will place a fair amount of importance on their plan for reloading the spreader. In the case of spreaders that occupy the entire bed of a pickup, there's no option for carrying extra deicing material outside of the spreader. Instead, contractors will either have their own supply of bulk salt or other material at their headquarters, or they will visit a landscape supply center each time they need to reload.
"Complications grow, but that's just the way it is," Iverson said. "Once they can see how it works for tailgates, it's really just buying the right size for their operation."
Stainless or Poly
Though the industry trend increasingly has been toward spreaders made of polyethylene (poly), steel and stainless steel units remain options on the market.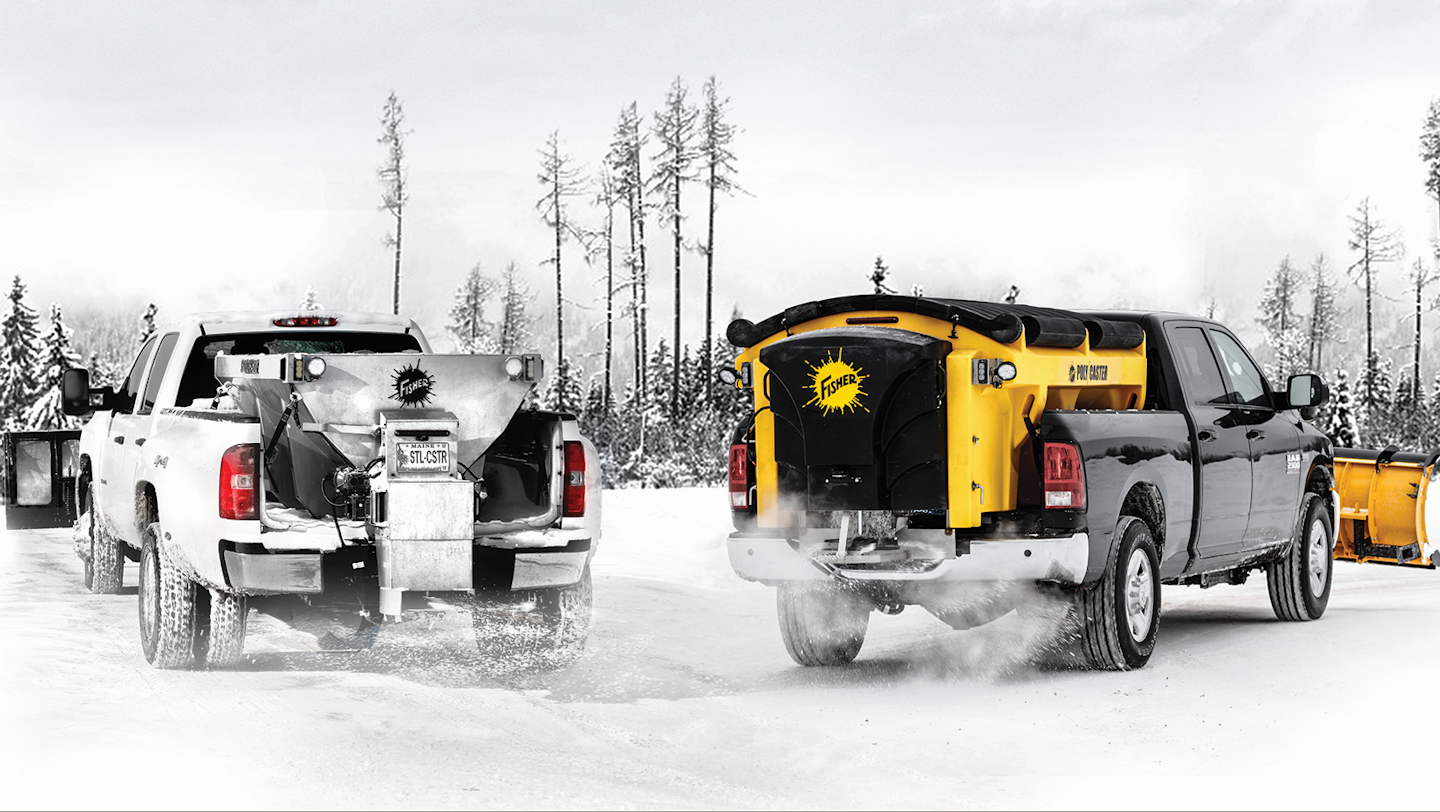 The snow and ice management industry remains divided as to spreaders made of polyethylene (poly), steel or stainless steel. Poly can be as strong as steel and uses way less material to get to the same strain. In terms of pure material strength, the debate among poly, steel and stainless steel has essentially been reduced to a tossup, with neither material offering an actual advantage."I'm told that people select stainless steel just because they like stainless," Iverson said. "It's a perception. It's stainless steel. It's not going to rust."
The truth is, poly can be as strong as steel and use way less material to get to the same strain. In terms of pure material strength, the debate among poly, steel and stainless steel has essentially been reduced to a tossup, with neither material offering an actual advantage. When considering overall durability, steel spreaders are naturally the most susceptible to rust and corrosion issues.
Steel and stainless steel share the disadvantage of incorporating several moving parts — such as belts, sprockets and chains — and an engine that must be maintained. Necessary maintenance is more than just a time stealer; it can also translate into a major expense over the lifetime of a spreader. Spreaders heavy on parts like belts, chains and pulleys rarely can be put right to work after the off-season. They almost always require preseason maintenance, whether it's engine repair, parts replacement or a paint job
Many poly spreaders are electric powered and don't typically require such parts, nor the need for the maintenance that goes along with them. Also, poly spreaders with fewer parts require less work to get going after the off-season, and in many cases, require almost no tune up at all. And as the number of spreaders in a contractor's fleet grows, so does the gap in maintenance costs from one style to the next.
Iverson notes that poly is inherently smoother so the materials tend to slide easier inside the V-box hoppers. "It doesn't bridge or create voids, and it does a nice job of flowing material down into the auger and coming out," he said. Steel and stainless steel are much rougher by comparison, and material will catch more easily on the sides of spreaders constructed of these metals. Material flow is further restricted by any rust that appears on steel spreaders.
Read Next: Salt Spreaders Maintenance Tips
Also, poly can be molded, which allows manufacturers to put special geometry into it. With steel, typically they are dealing with flat pieces that need to be welded. Iverson said with poly, you can mold the different pieces and create steeper angles within the hopper than they might be able to piece together with steel.   
Equipment weight is another issue for comparison. Poly weighs significantly less than steel, offering poly spreader users the opportunity to load greater amounts of deicing material — up to 500 pounds in many cases — before reaching the designated gross vehicle weight rating (GVWR) for a particular vehicle. With law enforcement cracking down on overweight vehicles, it's important for contractors to ensure they're in GVWR compliance when traveling with a loaded spreader. And by allowing for more material to be carried every time the spreader is loaded, a lighter weight poly spreader enables contractors to spend more time servicing clients and less time driving back and forth to reload.
Less weight on a truck also means better gas mileage and lower fuel costs. According to fuel economy statistics published by the Environmental Protection Agency, eliminating 10 percent of a vehicle's total weight can improve mileage by 7 percent. Over the course of several snow events, and depending upon the total number of vehicles in a contractor's fleet, fuel savings can really add up with a lighter weight spreader.
Performance and Delivery
"Back in the day everybody in our industry knew how to work on gas engines," Iverson said. Engines were used and worked fine for the first season. Gas would go bad after it sat through the winter and the carburetors would get gunked up.
He points out that in the past, contractors would just take apart the engine and clean it when the carburetors would get gunked up or other issues occurred. Today, he said when the engine doesn't start, they panic and go "now what do I do?" 
The alternative is an electric motor that is connected to the vehicle's electrical system.
"It's a motor and wires, so if it's connected it should work," Iverson said. "It's a simpler system, but there are constraints on electrical."
With the truck providing the ultimate source for the electric motor, it limits the size motor available. Generally, the largest is going to be a ¾ horsepower electric motor because the draw to operate the equipment adds that much more capacity to the vehicle.
"If you take that variable and line it up with the size of the hopper and how much weight and everything else that's in there to drive that, it's safe to say that once you get above a 4 cubic yard hopper an electric motor will struggle depending on the material to push it out," he said. For a 4- to 6-yard hopper with salt, sand or all sand, it is likely to require a gas engine to drive that.
From a drive perspective, it becomes more about maintenance. Electric is simpler with fewer parts, but if the needs for material and hopper size are larger, a gas engine is more in line.
The next piece is determining if you want a chain or auger delivery system and the different abilities when it comes to controlling how the material is applied.
Iverson said the chain-driven conveyor system is a material fed conveyor that rolls the material through.
A gravity-fed spreader can get the job done when applying dry, smaller-sized bag material; a spreader needs a system to keep material flowing when clumpy bulk material is being used. But not all material movement methods are created equal. Some conveyor belt systems will pull too much material and overload the discharge shoot. And because conveyors drop material in sporadic sheets, they often end up wasting a lot of material. As a drag chain conveyor goes underneath after dumping material, it also tends to pull material back into the truck bed, creating further waste.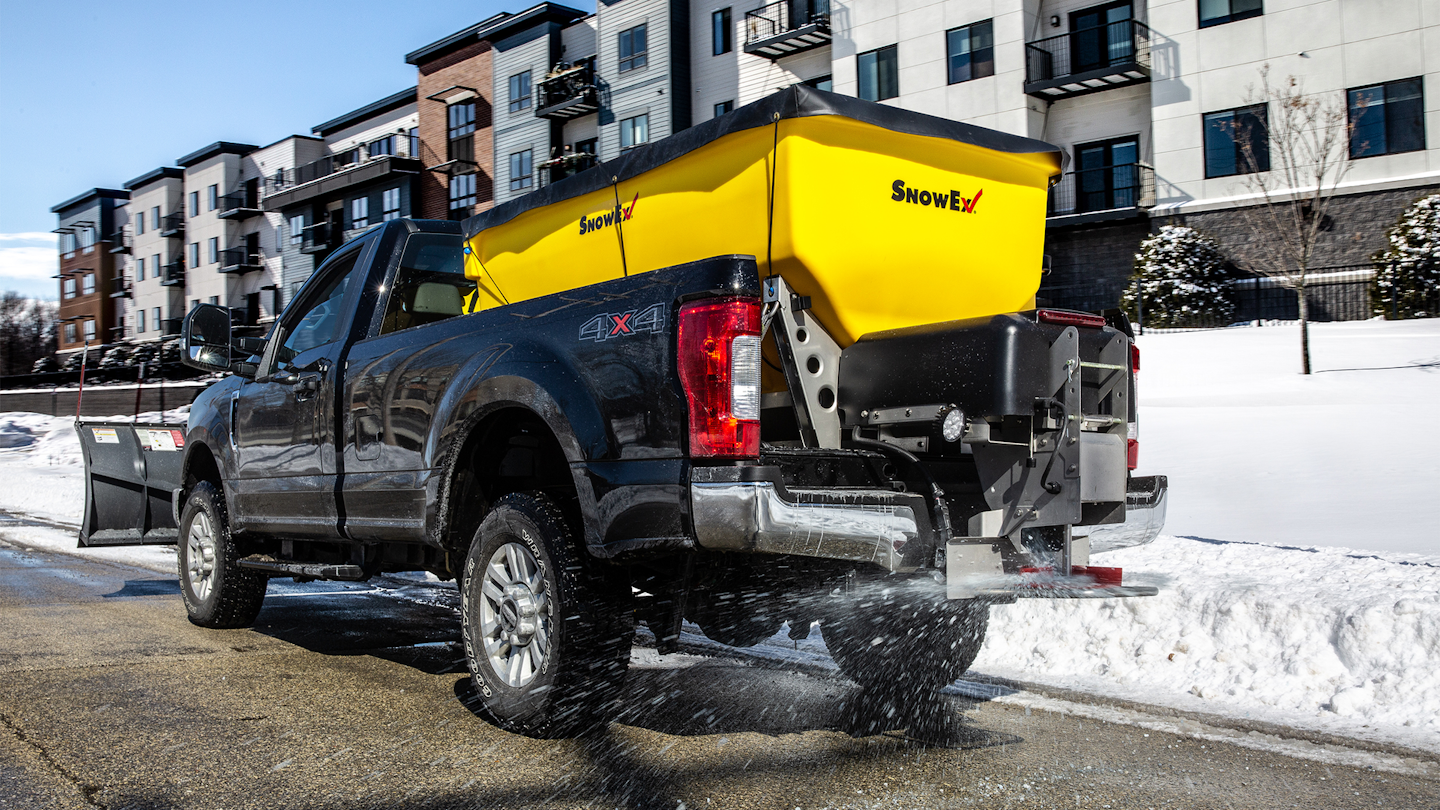 SnowEx HELIXX poly and stainless steel hoppers feature an advanced material delivery system. Combined with a multi-dimensional tub design, the hoppers offer the triple threat capability to spread, pre-wet or spray with one machine.Because material clumping together is the biggest obstacle in material flow, some more efficient designs use a vibrator as part of a multi-angled hopper to help chisel and break up the material. These spreaders also feature an auger system that delivers a consistent flow of material to a precise spot on a spinner. The result is an ideal spreading pattern with almost no wasted deicing material. The efficiency of the auger system directly cuts down on unnecessary cost to the contractor.
Iverson noted that it depends on the type of material being spread as to what style of delivery system to utilize.
Control systems also vary by manufacturer, with some being a single level used to control both the flow rate and spinner speed. Other systems have independent controls for the auger and spinner in the truck cab, allowing for faster adjustments on the fly. Being able to control these two aspects of material application independently allows for more variation and flexibility, whether it's adapting to the varying degree of snowfall throughout the course of an event or simply making logical adjustments to account for the differences from job to job.
 The Right Choice
So considering these differentiating factors, what's the right choice for your operation? The most critical thing a contractor can do when selecting a spreader is to remember that it's a business investment. Cutting corners on purchase price and failing to meet the basic needs of a winter maintenance program will only lead to a smaller return on investment and a lot of dissatisfaction. Take the time up front to examine each aspect of a spreader — from capacity and the materials it can handle to how it's built and how it performs — and you'll be ready to make a choice that will reward you for many winters to come.