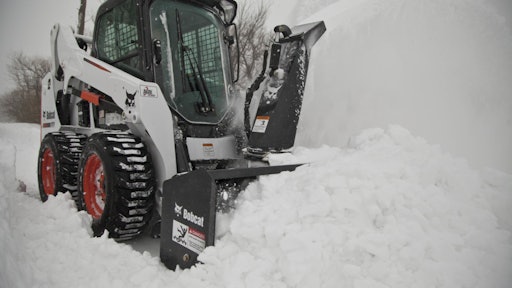 We know. It's the middle of the summer and we're trying to talk to you about snow. Trust us, though. When that white stuff starts falling, you're going to be glad we helped you prepare your business to withstand the change in the weather.
Without realizing it, many landscape contractors already have some of the most expensive equipment needed for snow handling—skid steers, track and wheel loaders, pickup trucks, etc. You have the equipment 12 months out of the year, why not use it?
Landscape contractors also have the commercial relationships already developed to easily become a snow partner with your summer maintenance customers.
"Some larger accounts, such as homeowners' associations, typically only look for four-season providers," says Michael Frank, senior product manager at SnowEx/Douglas Dynamics. "By adding snow and ice control, it may give a contractor access to a larger or better customer base … one that opens the door to more clients for the [landscape] maintenance side of the business, too."
Someone is out there doing it, why shouldn't it be you?
But before you jump into adding snow handling as a way to keep business flowing during winter, put some time and consideration into what current pieces of equipment you may use and what additional support equipment you may need.
Here's what manufacturers say are the essential items contractors should add to their snow removal fleet.
Keeping It Compact
Since you most likely have a skid steer that's just sitting around all winter, there are additional snow removal options to consider.
"Contractors use compact equipment because, oftentimes, a pickup truck is too cumbersome and can't fit into tight spaces," says Mike Fitzgerald, a loader product specialist at Bobcat Company.
This is why snow removal is a great business to put your company equipment to use year-round.
"You can use a standard skid loader bucket to move snow, but if you're getting serious about snow removal, you need to step up to dedicated snow attachments," John Dotto, brand marketing manager of CASE Construction Equipment, says. "The type of attachments you choose should take into account a number of factors. The size and weight of your skid steer dictates the size snow push or plow blade your machine can handle. Consider putting on some additional counterweight, if you haven't already, to improve traction and pushing performance in heavy, wet snow."
Attachments most commonly used with skid-steer loaders are the snow blade, snow V-blade, angle broom, push broom, snow blower, scraper, snow pusher and buckets. For further versatility, many snow removal companies opt for a snow V-blade. It can be configured five different ways—as a straight blade, V-cut blade, scoop blade, and 30-degree left- or right-angle blade.
Due to time constraints, crews can't always clear jobsites before traffic drives over the freshly fallen snow. So for snow removal jobs that require removing hard-packed snow and ice, Fitzgerald suggests using a scraper attachment. It has a self-sharpening cutting edge that easily slides under stubborn snow and ice on pavement to produce a smooth surface.
A snow-blower attachment proves ideal for blowing snow away from the area, into a pile or dump truck with a truck-loading chute.
"If you're looking to use a snow blower to throw snow away from the site, you need to consider hydraulic flow rates and make sure you have the correct electrical auxiliary circuits to take full advantage of all of the blower's functions," Dotto says. "Most snow attachments come in a wide variety of widths, from small sidewalk-sized V-plows and snow blowers to 10-foot-plus wide pushes and blades. Understanding what your machines are capable of and the space limitations of the area you are clearing should all be considered when selecting a snow attachment."
For lighter snowfalls, attach an angle broom, which is ideal for sweeping less than 6 inches of snow. In addition to clearing snow from parking lots, sidewalks and pathways in the winter, these attachments can be used for sweeping away dirt, leaves, gravel and other debris, which makes them valuable all year-round.
"One more thing to consider for your snow removal fleet is lighting," Dotto says. "Look for lighting package options that throw light all around the machine and consider adding additional warning lights, such as beacons or four-corner strobes. If you're clearing commercial parking lots, and there is pedestrian and vehicle traffic to contend with, you're going to want to be as visible as possible."
It's a Push
For a landscape contractor just entering the snow business, a snow-pusher attachment may be an ideal solution. Compatible with smaller-sized skid steers, tractors and wheel loaders weighing up to 5,000 pounds, snow pushers are ideal for clearing small parking lots, sidewalks and larger driveways. The pushers can also help reduce fuel and salt usage by increasing pushing efficiency and eliminating follow-up plowing.
"Skid steers, backhoes and wheel loaders are attractive for pushers in a big-box parking lot because they move a ton of snow, and they move it all to one spot instead of windrowing it," says Doug Clark, product manager with Western Plows/Douglas Dynamics. "Pushers require a prime mover with a lot of torque and traction to move this weight."
This is why it's important to pick a pusher with the proper size and weight for the skid steer or loader, as well as for the application. Bigger pushers aren't always better.
For example, a skid steer equipped with a 10-foot pusher ideally clears narrow parking aisles and handicapped parking spaces during the day with traffic present—a common occurrence when people scramble for supplies to ride out the storm. A 19-foot loader-mounted pusher works more efficiently on large lots with wider clearing areas.
Contractors use a formula based on acres and pushing capacity to determine productivity ahead of time. This creates a strategy for operator schedules and determines priority when it comes to clearing properties according to size.
For example, if there is 3 inches of snow on the lot, a 10-foot containment plow with a pushing capacity of 13 yards can take roughly 30 minutes to clear anywhere from two to three acres. A contractor using a 16-foot model with a 28-yard capacity can estimate the same job in the same weather conditions to take about half the time. This formula changes depending on snow conditions and characteristics, such as wet snow, which takes longer to clean, but it gives a rough timeframe with which to work, and helps determine the amount of pushers and machines needed.
Pickups and Plows
However, the problem with a compact piece of equipment is that it's not as easy to transport quickly from job to job since each location requires moving the equipment on a trailer. This is why some contractors prefer to use a pickup truck with a snowplow for snow removal as it's much more versatile.
"Assuming contractors already own a medium-duty truck, they simply need to buy a snowplow package," says Mark Klossner, vice president of marketing at BOSS Snowplow. "The mount system can be mounted to the frame of their existing trucks and easily removed when not in use."
As a landscape contractor, however, it's your job to choose a plow for your pickup that's going to be kind to the surface underneath the snow.
"Snowplows traditionally come with steel cutting edges that are known to leave streaks and divots in the [surface being plowed]," Clark says. "Snowplow manufacturers make a number of different products that are more surface-friendly like a poly or rubber cutting edge. These do not damage the underlying surface."
The size of the plow and equipment you use vary depending on the size of the area you are plowing. If you're installing a plow on a pickup truck, plow recommendations are based on the front gross axle weight rating (FGAWR) of your vehicle—which is the maximum allowable weight that can be placed on the front axle. The snowplow you use on your vehicle should comply with the FGAWR recommendations.
Straight blades and V-plows (V-blades) both get the job done, but V-plows have the ability to angle and direct snow. Straight blades are still the biggest seller and often can be more affordable than V-plows, but V-blades can be a better option for handling frozen snow.
Depending upon your surface's configuration, you may also consider the versatility and convenience afforded with a snow V-blade, which some manufacturers build for multi-directional use as a straight blade, V-cut blade, scoop blade, and a left- or right-angle blade.
"For every V-plow you add, make sure you have at least three to four straight blades," Clark says.
Ice Control
Taking snow removal one step further, many contractors add a salt spreader to their business.
"Not only does spreading salt provide a more all-encompassing service to your customer, but you can also increase your workload," Frank says. "Whereas pushing snow relies on snow falling in the first place, controlling ice is a winter-long battle, regardless of how much snow flies. Every company is faced with the concern of liability if someone gets injured on their property.
"If you look at the Centers for Disease Control and Prevention (CDC) statistics identifying that roughly 800,000 people are hospitalized each year due to a slip-and-fall injury, and that the overall medical costs for these injuries hits about $34 billion each year, it makes sense for business owners to take precautions to not only prevent injuries, but to also make it clear that they went through the proper procedures to try and alleviate a hazard. Because of these common business concerns, by having the ability to spread salt and sand on a property, in addition to clearing snow, that's a major leg up over a contractor just offering snow control."
A salt spreader attachment can be mounted in a utility vehicle's cargo box, or can come in the form of a pickup tailgate spreader or a hopper. This can be used to spread salt and sand on sidewalks and pathways, making it ideal for more snow-removal tasks for buildings and grounds applications.
BOSS recently launched a new product called the QuickCube system for skid steers that helps contractors overcome many of the obstacles to growth and profitability in the ice-removal business.
"The system utilizes poly totes that hold about 1,000 pounds of salt and are weather-proof," Klossner says. "The totes can be pre-filled with salt and staged at a customer's location along with a skid steer. When the winter weather hits, the operator simply travels to the job site and operates the skid steer to spread the salt. In addition, the contractor can purchase a box plow for the same skid steer, which can be quickly attached to the skid steer for plowing and then quickly switched back to the QuickCube system for salting."
If you're spreading salt with a pickup, efficiency is key.
"If you're starting out with one to two lots, a tailgate spreader is great," Clark says. "Once you have four to five lots, you should look in to a salt hopper. Tailgate spreaders do not handle bulk salt, you're emptying each bag into the spreader. With a hopper, you can get more done faster.
"When it comes to snow removal, you want to look for anything that's going to increase your efficiency," Clark says. "If you can do anything to improve how fast you're moving snow, like putting down more salt or adding a wide-out plow, it can result in faster plowing. This means you can attack other contracts more quickly, bringing down your marginal costs and allowing you to be more profitable."
Pre-Wetting as an Investment
Another growing trend in snow and ice control is the use of brine.
"If you're currently spreading salt to counter ice, the first logical step to incorporating brine would be to add a pre-wet system to your spreader," Frank says. "This introduces liquid brine to the granular material being spread to accelerate the ice-melting process and to help keep the material from bouncing off the pavement being treated.
"Beyond pre-wetting systems, there are dedicated brine sprayers that are designed to mount in the beds of everything from utility vehicles to large flat-bed trucks. Though brine can be sprayed to treat ice after it has formed, one of the most popular uses for this equipment is to spray a brine solution in advance of a snow event—otherwise known as anti-icing. When the liquid evaporates, what's left is a fine film of salt on the pavement surface. As snow falls, it is unable to form an ice bond to the pavement, which makes plowing snow after a storm much easier. Furthermore, this practice uses about a quarter of the salt as spreading granular material on top of ice, meaning you're able to clear snow down to the pavement more effectively with lower effort and investment." 
If you have any questions about getting in to the snow removal business, there are many avenues to help you. 
"A new snow and ice contractor should join an association like the Snow and Ice Management Association (SIMA) at the beginning," Klossner says. "SIMA's library of resources, training and trade shows can help a new snow and ice contractor quickly gain the skill sets needed to be successful in the industry."
SIDEBAR: Balancing Act
The snow removal business can be boom or bust. As a business owner, it's important to create business contracts in a way that can help your company be profitable in a low-snow season.
"This business is obviously very weather-dependent," Doug Clark, product manager with Western Plows/Douglas Dynamics, says.  "You have to be very business savvy to be profitable."
The best snow and ice contractors manage a portfolio of whole-season contracts and contracts that are based on a per-push approach. Both types of contracts help you hedge your bets and ensure you can be profitable in a very unpredictable business.
Seasonal contracts say that, for the entire season, you are paid a set amount of money no matter how much it snows. These can be good contracts for your best customers, those with small lots and for locations that are grouped closely together.
Per-push contracts are those that say, for every job you visit and clear snow on, you charge a fee.
"From the contractor's point of view, seasonal contracts are the most lucrative when it hardly ever snows," Clark says. "Per-push contracts are best when it's constantly snowing. Since you can't tell ahead of time what the weather's going to do, savvy contractors understand their cost structure and try to stabilize their income by maintaining a portfolio of each type."