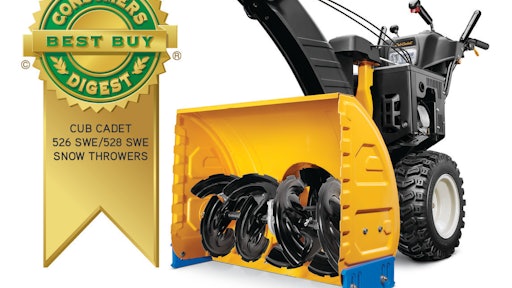 Consumers Digest editors have awarded three of Cub Cadet's premium-quality snowthrowers a coveted Best Buy distinction. The Cub Cadet 221 LHP, 526 SWE and 528 SWE represent three of 10 gasoline-powered products highlighted. According to the publication, the Best Buy designation is only applied to those products that deliver exceptional value—a rating reserved for fewer than 3% of the competing models in any given product category.
After a rigorous assessment of criteria including overall performance, handling, power, durability and ease of use, these snowthrowers were among the best in the single-stage and two-stage categories, respectively.
"Achieving another Best Buy designation from a trusted authority like Consumers Digest is a testament to Cub Cadet's dedication to delivering the best products, owner experience and results in the industry," said Jeff Salamon, director of marketing, Cub Cadet. "Cub Cadet snowthrowers have been given top ratings not only by top consumer publications but most importantly by our customers with their positive reviews and brand loyalty."
The 221 LHP is the premier single-stage snowthrower in the Cub Cadet lineup. In fact, according to Consumers Digest, "This model's engine generates the greatest output of any single-stage gasoline snowthrower that's in this category, while having the lowest price."
One 221 LHP owner said, "It is powerful, yet lightweight and easy to use … throws snow easily without any jams. The chute directional controls are very convenient. I thought the (in-dash) light would not be needed but makes night-time cleanup much safer."
In the two-stage category of products with 250cc or larger engines, Consumers Digest also recognized the 526 SWE and 528 SWE models as Best Buys. Features like power steering, upgraded Cool Blue skid shoes and a 3-year warranty impressed editors and demonstrated the value these models have to offer.
The Consumers Digest Best Buy rating is reinforced by the 5-star rating owners give the 526 SWE on cubcadet.com. One 526 SWE owner said, "My driveway is 150 feet long and this snowthrower has easily cut my time clearing snow by 75% and my frustration by 100%1 I can't help clearing all my neighbors' sidewalks because it is so much fun."