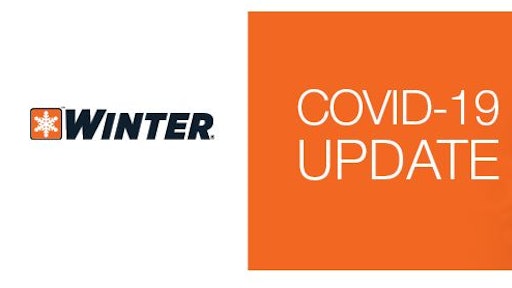 Winter Equipment
Winter Equipment, which manufactures plows, plow guards, cutting edges and other equipment, is one of many American small businesses pivoting in response to the COVID-19 pandemic.
Based in Willoughby, Ohio just east of Cleveland, the company was deemed an essential partner in the transportation sector.
"We work with DOTs (departments of transportation) and municipalities and we've been doing that for 30 years now," says Jason Lippincott, Winter Equipment's marketing manager. "Snow's not falling as much as it does this time of year, but we do a lot of road maintenance stuff, as well, like milling and grading."
Staying Operational
As cities and states across the country watch and wait to see how the virus will impact communities, Winter Equipment continues to produce equipment, while working to protect employees and customers.
For weeks, employees have cleaned the company's headquarters in the morning and at night, and a cleaning crew comes once a week to disinfect surfaces.
"It sounds silly, but we leave all the doors open so nobody has to touch anything," he says.
Many employees have worked the past few weeks with reduced hours from home, but with full pay. Sales calls have decreased, as a bulk of the company's sales come from government entities and many government offices are shut down due to the virus.
"We have three sales guys and our director, who lives nearby. He goes in for about an hour a day," Lippincott says.
On the production side, Winter Equipment is operating with fewer employees.
"They're running a much smaller crew to keep their distance," he says. "We have different sections, if you will, within the manufacturing and they continue to do essential work there, like build up an inventory and stock. It's just a matter of using some smaller crews to keep the manufacturing process going, but it might be a little bit slower than it normally is."
Crews are also staying current with annual seasonal maintenance projects.
"This is typically the time of year, usually it's April and May, when we do some cleaning and maintenance stuff," he says. "We were already ahead with all that. So, we're making the most out of the situation right now."
Cyclical Sales
After lower snowfalls during the past two winter seasons, Winter Equipment is expecting the 2020-21 snow removal season to be a busy one. Lippincott suggests contractors make their orders early, to ensure there is enough time to produce it before the snow hits.
Lippincott says now is a good time to take inventory of equipment that needs to be upgraded or replaced.
"Whether it's the snowblower or the blade or a plow or your trucks, have everything ready; be prepared," he says. "A lot of these guys in this industry are very professional and have a very good handle on their books. I think they'll be fine then they'll understand it. But some of the smaller guys, we have to keep them in our thoughts and hopefully they're all right."
COVID-19 could impact delivery of raw materials, he added.
"The general supply chain is going to be affected top-down," Lippincott says. "We bring some of our raw materials in from China. They've been slow for the past, how many months now? It's greatly affected the customers, whether it's B2B (business-to-business) or B2C (business-to-commercial). We're all in this together and we want to help customers just like we always do. But the sooner we can get those orders in, the better."
For now, Winter Equipment staff are checking in with customers and making sure everyone is ready to jump into action once the worst of the virus is over.
"It's an ever-changing kind of environment right now," he says. "We're going to hang in there and see what's happening from a marketing standpoint. We'll make sure everybody knows we're there and ready to hit the ground running whenever the shelter in place is released."
Moving Forward
While much is unknown about how the virus will impact communities and industries, it's important to stay in contact, Lippincott says.
"We just all need to communicate and stay in communication, whether it's, you know, internally within the company, or with clients first," he says. "We're all in this together. We don't want to see anyone fail; obviously not ourselves or our customers."
Transparency and honesty are also key during this time.
"Order early, be very transparent with what you're going to order and let's set up plans," he says. "I think preseason is going to be drastically affected. We're talking about, what's going to happen and how will preseason move? Will there be no preseason program? And we can't answer this right now because we're still in the thick of it all. Will preseason be the month of October, and you're going to have one month to get all your orders? And then everyone's going to want it by the end of October and November. We don't know that yet. We're just making sure that we're ready. But planning, planning, planning is what we need to do right now."
For more information about Winter Equipment's COVID-19 response, visit http://info.winterequipment.com/blog/COVID-19-update.