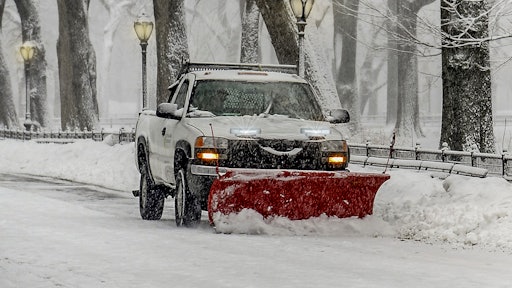 Most snowplowing is done at night, and all of it is done in bad weather, during which roads can be treacherous. Snow and ice management contractors must be able to see things in time to stop their plow vehicles.
"You've got a snowplow driver that really would like to see everything all the time and that in turn means you've got to have the best possible lights," said Doug Clark, product manager for Western Products.
Lighting for winter driving, specifically plowing, has evolved over the past several years. Like car or truck headlights, it started with the sealed beam headlights, which Clark describes as not being much better than taping a pair of flashlights onto the dashboard. From that point, technology advanced to the development of the halogen lights and eventually LEDs.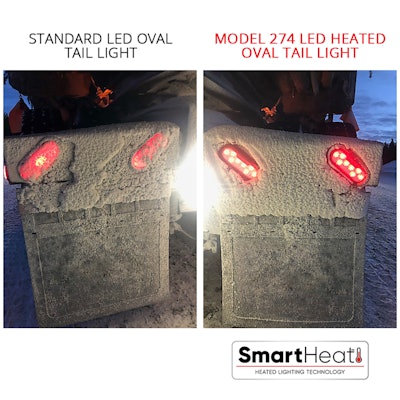 "Halogens were pretty good because they were fairly bright, fairly efficient headlamps But they were still incandescent lamps, and there was sort of an upper limit pushing up power through them," Clark said, noting that the halogens also tended to burn out too quickly.
For the snow and ice management market it is about the light output and beam patterns that lend themselves to snowplowing. Historically, pickup trucks have had clunky halogen lamps on the front ends of snowplows. Being halogen, it's a bulb in a filament that is prone to breaking.
"Halogen is not very long lasting, it doesn't survive well in that cold environment, and it's not that bright," said Michael R. Stoeckel, J.W. Speaker director of aftermarket sales. "The only positive with halogen is that they get hot. The downside to that is that they also don't last very long, but they get hot and they just naturally de-ice."
It leads to the challenge of running a brighter light versus a long-lasting one. "One of the things that is really attractive about LEDs is that they are not incandescent bulbs. Because they use electrical luminescence, the more power you push in, the more light comes out," Clark said.
He said the LED headlamps are roughly two-times the brightness of the halogens because of the updated technology.
Instead of being a single point source with a big reflector, the LEDs are much more concentrated sources of light. Instead of having one bulb, you have a whole bunch of LED elements. This allows the headlamps to have a wider, fuller pattern in low and high beam so that operators have better visibility while driving and plowing.
The Nighthawk headlamps at Western have been in development for nearly two years.
"We didn't want to give our customers just another LED headlamp option; we wanted to give them what we feel are the best LED headlamps available in the industry," Clark said. "I believe our customers will agree when they use them out in the field."
Built with durability in mind, the Western headlamps offer a compact design that is less prone to shock and vibration while plowing. Featuring a completely sealed, weatherproof housing to stand up to harsh weather conditions, the headlamps have undergone thorough testing, including hot and cold thermal shocking, cold water submersion, corrosion tests and impact simulations.
Clark said another benefit to using LEDs is the precisely tuned patterns and very defined horizon line. "The low beams have a very defined horizon," he said. "What's good about that is it keeps it down below the horizon, and the driver doesn't get as much glare off the snowflakes. You get a better view down the road when you're getting those lights scattered off the weather."
In recent years, more companies are seeking winter lighting packages for plowing or just general winter transportation. Some have considered use of LEDs but fear the perception that LEDs do not function well in winter. While brighter, LED lights produce no heat where it is needed.
"They produce a ton of heat where you don't want it on the back of the circuit board," Clark said. Western has ridges or heat exchangers on the back of the lights to pull off the waste heat from the electronics.
Stoeckel noted there is also a perception that LED lights will freeze over and not function in winter. With a variety of heating options from the various manufacturers, there is an option for LEDs to be utilized in winter driving.
For example, to combat snow and ice build-up, the Western Products Nighthawks LED headlamps boast an intuitive heating system that senses temperature on the lens and only heats when necessary. To help prevent ice bridging, the headlamp structure is designed with a forward sloped lens and has no bezel, a common point for ice to begin forming on other lamps.
In addition, Stoeckel said the J.W. Speaker plow lights have custom-designed SmartHeat technology, allowing each light to automatically de-ice the surface of the lens using a thermally conductive grid system. The system reacts to temperature changes on a real-time basis with no action required by the driver.
"The driver doesn't have to worry about anything; it just works," Stoeckel said. "Now that we have the deicing going on and it's efficient and it's cost effective, it's making a big difference."
Another option offered by Western and other Douglas Dynamics headlamps is Edgeview technology.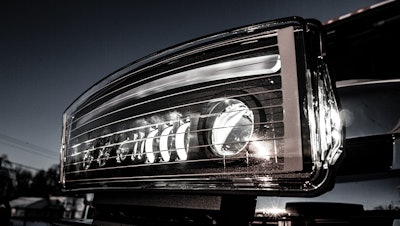 Western worked with the manufacturer to produce this particular light with an element that's on the side and shoots to the side and down. "The purpose of that is so that the plow drivers can see where the edge of their plow is and also see those pedestrians with poor self-preservation skills because it will light up the sidewalks on either side," Clark explained.
Even without EdgeView active, Clark said LEDs in general offer a superior light pattern that illuminate wider and farther than other headlamps.
"When you put all of this together, you can see from your far right, your far left and everything in between. And when you turn on the high beams, you can see very, very far down the road," he said. "You can see stop signs, lights and read a hundred yards away, which is highly valued to a guy in a truck at 3 a.m.
"They're just better than anything else floating around out there right now," Clark said. "In the future, it will be something else. This is the revolution we're in the middle of right now."
The light will work on a range of plows, but Clark added that it is expensive. "A really well-made LED light is probably about three times as expensive as a comparable halogen," he said.
Stoeckel suggested it is worth the additional cost as contractors consider a winter lighting package when buying a plow.
"Now there's a way for them to get these on because if an LED is rated for up to 50,000 hours versus a sealed beam or a halogen lamp at 300 to 500 hours, that's a big difference," he said. "That is definitely a payback you can calculate."
Companies in this article